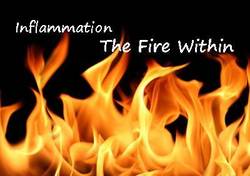 Control of inflammation represents a novel strategy in promoting health and reducing the risk of most feared illnesses in middle and old age
Garnet Valley, PA (PRWEB) January 14, 2009
Millions of Americans are affected by chronic inflammation without knowing much about it. Illnesses such as heart disease, stroke, type 2 diabetes, cancer, depression, and Alzheimer's are all affected by chronic inflammation. Advanced research and clinical evidence have indicated that control of chronic inflammation offers more than symptom relief, it may be vital in slowing disease progression. Innovative Drug Discovery Inc. is pleased to announce the launch of http://www.FlameEz.com to provide the latest information and innovative products for chronic inflammation.
According to the latest statistics, the prevalence of inflammation-related progressive diseases is reaching epidemic proportions. Chronic inflammation goes beyond the more well-known inflammatory conditions such as arthritis, chronic obstructive pulmonary disease (COPD), and inflammatory bowel disease (IBD); it is closely linked with lifestyle diseases such as obesity, diabetes, cardiovascular disease, stroke, cancer, depression, and Alzheimer's disease.
Scientific and clinical studies have shown that a sustained low-level inflammation leads to development of "soft" plaques that can rupture suddenly, causing heart attack and stroke. Chronic inflammation is also the critical component in cancer development and is responsible for accelerated insulin resistance (type 2 diabetes), fragile bones (osteoporosis), and memory loss (Alzheimer's). More recently, evidence has established that chronic inflammation induces not only symptoms of sickness and pain, but also depression, migraine, chronic fatigue syndrome, and fibromyalgia.
A diet high in sugars and saturated fats is an important source of chronic inflammation. Other sources include smoking, stress, high blood pressure, and being overweight. Despite the consensus among many medical experts that chronic inflammation is the root cause of many of the most feared illnesses of middle and old age, treatment options are limited due to safety concerns.
Nonsteroidal anti-inflammatory drugs (NSAIDs) are often used to treat chronic inflammation and inflammation-related diseases. Unfortunately, 25% of NSAIDs users suffer severe (and sometimes fatal) complications such as stomach ulcers and gastrointestinal bleeding. In addition, the newer NSAIDs have been associated with an increased risk of serious adverse cardiovascular events including heart attack and stroke.
In today's complex health care environment, Americans no longer see themselves just as patients, but as consumers who want to take greater control of their health. They are increasingly seeking scientific and clinical data so they can make informed decisions. FlameEz.com, developed and maintained by Innovative Drug Discovery Inc. (IDD), is a newly launched website dedicated to providing the latest scientific information on chronic inflammation and innovative products derived from advanced scientific and medical research.
"Control of inflammation represents a novel strategy in promoting health and reducing the risk of most feared illnesses in middle and old age" says, Dr Yi Shi, Chief Executive Officer of IDD. "By providing the latest information and products, consumers can learn and act now before things are out of control." For detailed information on inflammation-related illnesses and FlameEz™ products, please visit: http://www.FlameEz.com.
About Innovative Drug Discovery Inc.
Innovative Drug Discovery Inc. is a private company engaged in the research and development of health care products for unmet medical needs. IDD's mission is to deliver innovative and meaningful products to improve the quality of human life.
###