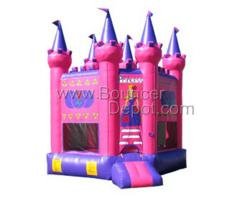 Princess castle Bounce House
Los Angeles, CA (PRWEB) November 26, 2011
Cold weather has hit, but that hasn't stopped kids all over the country from having fun in their inflatable bouncers. Steve Johnson, co-owner of Bouncer Depot, a leading U.S. commercial bounce house manufacturer tells us, "More families are investing in commercial inflatable bouncers because of their safety, low prices, durability, year round use, and most of all, their kids absolutely love them."
Trampolines are great fun but they have their limitations. In colder parts of the country they can only be used a few months out of the year and are very difficult to take down and set up. In comparison, bounce houses can be set up and taken down in a matter of minutes – plus they can be used indoors.
Commercial bounce houses are commonly seen at kid's birthday parties, reunions, picnics, and more. They are now catching on as a permanent play toy for individual families. Bouncer Depot offers wholesale bounce houses that are as small as 9x9. Johnson says that a lot of families are buying them and setting them up in their garage or shop because of the smaller size.
It's like having a birthday party every day of the year for the kids. Having a residential bouncer means the kids can still get plenty of exercise, and burn off extra energy during the cold winter months.
The great thing about buying inflatable bouncers from a bounce house manufacturer like Bouncer Depot is that all of their products are made in the USA and come with a 3-year warranty and 30 day money back guarantee. They have the most innovative designs including inflatable water slides for sale, and even obstacle courses. They also announced the opening of their new FAQ page and bounce house blog where potential customers can find lots of useful information and answer to almost any kind of question regarding inflatable bounce house rental industry before looking at companies who offer commercial bounce houses for sale.
Offseason is a great time to purchase commercial or residential inflatable bouncers. Bouncer Depot is running an off-season sale on all of their products – from the 32 foot inflatable ship to the 9x9 residential birthday cake shaped bounce house.
Many new residential trampoline owners worry about setting up and operating their new inflatable bouncers, but it is actually much easier than setting up a trampoline. Each order comes with an easy to use blower and safety instructions. Bouncer Depot also offers great phone support for users who want assistance when setting up their bounce house. Their website, BouncerDepot.com also has a ton of helpful instructions and tips on how to safely use inflatable bouncers.
About Bouncer Depot:
Founded over 10 years ago, Bouncer Depot is now considered to be the leading bounce house manufacturer in the country. Using cutting edge technology, a strong design team and innovative design concepts, Bouncer Depot produces the largest selection of inflatable water slides, bouncers and obstacles available in today's marketplace. Their inflatables are currently bringing fun and joy to people in countries all over the world. The company is proud to manufacture all products within the U.S.A. For more information about Bouncer Depot, please visit BouncerDepot.com.
# # #