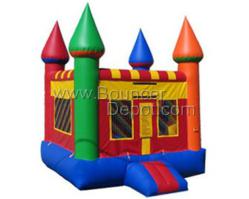 The most popular castle bounce house.
(Vocus/PRWEB) April 16, 2011
Starting from simple inflatable jumpers and famous bounce house castles Bouncer Depot, a manufacturer and wholesaler of inflatable bounce houses based in the USA is now producing large variety of interactive inflatable games such as the simple moonwalk, action packed bouncer slide combos, thrill-ride wet & dry inflatable slides as well as jaw dropping, high octane obstacle courses and other interactive inflatable games. The high volume of demand from different generations has challenged and motivated the engineers and designers to stretch to the farthest reach of their imaginations to construct more innovative inflatable games.
More variety means more questions which makes it harder to make a final decision for a consumer. Bouncer Depot wants to outline pros and cons for each category of inflatable structures which will make the process of choosing a right category easier.
Bounce Houses.
Inflatable bounce houses are made in many different designs, shapes and sizes. According to Bouncer Depot an average inflatable structure has approximately of six to eight years of life; however, well-maintained units can last longer. Inflatable bouncers can be used indoors or outdoors. They can be rented commercially or be purchased for personal usage. In a regular bounce house usually five to eight children can be allowed to play at the same time. However, depending on the size of the inflatable moonwalk this amount can greatly increase.
Pros:
Regular 13x13 bounce house is one of the most popular and demanded category in the industry. It is easy to maneuver, set up and clean. It is the least expensive category. This category can be rented on average for about 6-9 months in a year. It can pay for itself within 1.5 to 2 months by renting it just 2 times per week.
Cons:
The cost to rent a bounce house for 8 hours varies from $80-$160 depending on area. This means lower profit for rental businesses in comparison to other categories of inflatables.
Inflatable Slides.
Inflatable slides are one of the most popular and considerably new items in the party supply or rental businesses. Slides are the best movable or rentable amusement rides that can be transported and set up anywhere on a playground, backyard or a park. They are known to bring fun and joy to all ages. Some of the summer's best playful amusements are the different varieties of water themed inflatables. A good quality water slide's stitches are covered with special, hot sealed, seam sealing tape, which eliminates the contact of the thread with water. An additional extra strength coated vinyl strip hot sealed at the edges of vinyl can be found inside of the stitching. This technique provides an extra power and durability to the connection points.
Pros:
Slides and especially water slides are the most demanded items during hot summers. It is fun not only for kids but for adults as well. For one who comes from a large family, wet/dry slides and other inflatables are especially appealing. As opposed to spending about a hundred per head including admission, food, drinks, and souvenirs at an amusement park, one can fire up a grill and bring the amusement park to their own backyard by renting an inflatable slide. Water slides have the highest profit margin. The average cost to rent a water slide for 8 hours varies from $200-$600 (and up). It will get paid off within 1-1.5 month.
Cons:
The cost season for water slide lasts approx 2-5 month. They are larger and sometimes more difficult to set up and they take more time to clean and maintain.
Bouncer Slide Combos.
Inflatable bouncer slide combo units are two piece combinations of a moonwalk and a slide. General bouncers are specifically designed for jumping fun, whereas the combo units include an attached slide. Combos are very popular items amongst the inflatable moonbouncers. Some of the combo units have the advantage of using them together or separate. Detaching the slide from the bouncer gives the opportunity to rent one unit at a time. They can also be made to use as wet and dry.
Pros:
Combo units give more options to party rentals. It combines two popular categories in to one. A single unit allows participants not only to jump but to slide as well. Party rentals can get even more benefits by having wet and dry combos. Renting the same unit as water combo increases the rental cost in average by 50%. With this option one can rent it as a water unit during a hot summer (2-5 months with high rates) and as dry unit during the remaining portion of the year. This category can be rented in average 9-12 months out of the year.
Cons:
A combination of two units in to one comes with its price and In an effort to keep the size and the weight of the combo reasonable, manufacturers often make bouncing area or slide smaller which can sometimes affect the functionality of the slide. A slide is always fun when it is high and fast.
Inflatable Obstacles.
Inflatable obstacle courses allow for participants to have races and compete against one another. Besides the great concept of having all in one such as bouncer, slide and inflatable obstacle challenging games in one unit, obstacle courses also have beautiful designs. Using different hues of vinyl, obstacle courses are made in square, round or maze looking shapes. Obstacle courses can be as gigantic as approximately eighty feet long and twenty feet wide and can also have an eighteen to twenty feet high slide. Such gigantic inflatable units are usually permanently set up indoors at a Family Entertainment Center.
Pros:
This category is a must have for long established rental businesses. It makes established businesses stand apart from new starters. Huge obstacle courses are usually rented during festivals, school events and other events where the number of participants is significantly higher. More participants and larger crowd means more visibility and more business for rental companies. Most obstacle courses come with two pieces: Slide and the obstacle. These units can be rented separately and having a detachable pool for the slide gives you the third option to use the slide as a water unit.
Cons:
Higher cost, they are heavier units to move and set up and they require more space to set up. There are also limited events where can be rented.
The inflatable industry has grown over the past few decades and turned into one of the most recognized, entertaining fields throughout the world. Having an inflatable at a party has now become the standard. Needless to say, the renting of these jumping castles, combos, slides, and obstacles has become quite a lucrative business for those who have invested in these giant inflatable fun structures. But that's not the only good news. There is another upside to this industry as well and that is putting a smile on children's faces.
###