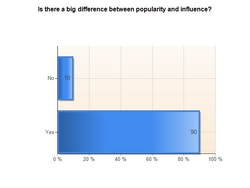 50% of respondents said that the single most important action a person or brand can take to most increase their influence online was to create, post or share compelling content.
Lanham, MD (PRWEB) September 29, 2010
How do you build influence? Create, post or share relevant content – that's what 739 respondents to the survey "What makes an influencer?" said. Vocus (NASDAQ: VOCS) and Brian Solis partnered to conduct the survey and today published the findings in a report titled, "Influencer grudge match: Lady Gaga versus Bono."
The reference to Lady Gaga and Bono stems from a question on whether respondents felt influence was different than popularity. More than 90% said indeed there was a difference and one responded wrote in the open ended section of this question, "Lady Gaga is popular, Bono is influential."
However the comment and survey data demonstrate that the question is not always easily answered. For example, in a follow up question 84% of respondents said there was a correlation with reach and influence. With more than six million followers on Twitter, it's clear that Lady Gaga has reach. The report explores this question in depth and contains other highlights that include:

Senior execs are willing to pay for influence. 57% of respondents said they would be willing to pay an influencer to help "drive actions and outcomes." Cross-tab analysis by title, role and organization provided additional insight as to who exactly is willing to pay for influence. For example, a cross-tab analysis by title showed the executive level, such as CEOs and CMOs (63%), were most willing to pay for influence.
Quality of network and quality of content have a defining impact on influence. The top contributing factors that make an person or brand influential include the "quality or focus of the network" (60%), the "quality of content" (55%), which tied with the "capacity to create measurable outcomes" (55%), and the "depth of relationship" a person or brand has with social contacts (40%).
Content is king, but context is queen. 50% of respondents said that the single most important action a person or brand can take to most increase their influence online was to "create, post or share compelling content."
Views vary on effective measurement. A majority, 29% of respondents, said "action" is the most important measure of effectiveness in social media, yet more than one-third (36%) also ranked "action" as the least important. "Views" was the next highest ranked measure of effectiveness with 36% and "click-throughs" tied last with "Retweets" on Twitter and "Likes" on Facebook.
"Influence is the subject of some of important conversations lately," wrote Brian Solis in a post titled, "What Makes an Influencer?". "Each time we surface questions, answers and new thinking that starts to reshape the landscape for how businesses view, define, and embrace influence."
The results of the survey were presented to a Webinar audience on September 23, 2010, but the report on the results has been release for the first time today. A copy of the complete report is available for downloaded here: http://bit.ly/dlXLSZ .
Note: Members of the media and blogging community are welcome to request additional information on the survey, its scope and analysis, by sending an e-mail to fstrong(at)vocus(dot)com.
About Vocus
Vocus, Inc. (NASDAQ: VOCS) is a leading provider of on-demand software for public relations management. Our web-based software suite helps organizations of all sizes to fundamentally change the way they communicate with both the media and the public, optimizing their public relations and increasing their ability to measure its impact. Our on-demand software addresses the critical functions of public relations including media relations, news distribution and news monitoring. We deliver our solutions over the Internet using a secure, scalable application and system architecture, which allows our customers to eliminate expensive up-front hardware and software costs and to quickly deploy and adopt our on-demand software. Vocus is used by more than 7,100 organizations worldwide and is available in seven languages. Vocus is based in Lanham, MD with offices in North America, Europe and Asia. For more information, please visit http://www.vocus.com or call (800) 345-5572.
This release contains "forward-looking" statements that are made pursuant to the Safe Harbor provisions of the Private Securities Litigation Reform Act of 1995. These are statements that are predictive in nature, that depend upon or refer to future events or conditions, or that include words such as "may," "will," "expects," "projects," "anticipates," "estimates," "believes," "intends," "plans," "should," "seeks," and similar expressions. This press release contains forward-looking statements relating to, among other things, Vocus' expectations and assumptions concerning future financial performance. Forward-looking statements involve known and unknown risks and uncertainties that may cause actual future results to differ materially from those projected or contemplated in the forward-looking statements. Forward-looking statements may be significantly impacted by certain risks and uncertainties described in Vocus' filings with the Securities and Exchange Commission.
The risks and uncertainties referred to above include, but are not limited to, risks associated with possible fluctuations in our operating results and rate of growth, our history of operating losses, interruptions or delays in our service or our Web hosting, our business model, breach of our security measures, the emerging market in which we operate, our relatively limited operating history, our ability to hire, retain and motivate our employees and manage our growth, competition, our ability to continue to release and gain customer acceptance of new and improved versions of our service, successful customer deployment and utilization of our services, fluctuations in the number of shares outstanding, our ability to integrate acquisitions, foreign currency exchange rates and interest rates.
###