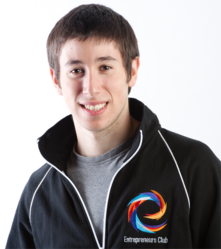 Boston, MA (PRWEB) April 23, 2012
influencers@ LLC, the leading influence marketing agency, announced today that Greg Skloot will join the company in a newly created Chief Operating Officer role.
"Greg is a well respected leader in the Boston entrepreneurial community. He brings to influencers@ passion and expertise to build the organization and engage with the 18-30 student demographic" said Spencer Bramson, Founder and Chief Imagination Officer (CEO). "With the dramatic growth in our business in the first 8 months, it is absolutely the right time to expand our executive team and take advantage of the incredible demand for our lead-driven influence marketing both on the streets and online. Greg will help us to build and scale capabilities as we continue rapid growth."
In this role, Skloot will initially be responsible for marketing campaigns, day-to-day business operations and growing a nationwide network of ambitious college students to serve as brand influencers.
"I am thrilled to be joining such an exciting startup. influencers@ has become one of the hottest places to intern as a college student in Boston" said Skloot. "We have an incredible opportunity to leverage influence marketing and engage college students in innovative ways."
Before joining influencers@, Skloot served as President of the Northeastern University Entrepreneurs Club where he led a team of 24 to grow the organization to the sixth collegiate Entrepreneurship Club in the world. As President, Skloot increased membership to over 1000 students, or 5% of the University population. He launched multiple new programs and graduated 35 new student-run startups from the club's prestigious Husky Startup Challenge. Previously, Skloot spent 2 years as a Fellow at .406 Ventures, a $170M VC firm in Boston and also co-founded an IT Consulting firm which he ran for 7 years.
About influencers@
influencers@ is an influence marketing agency that hits the streets and interwebs to help brands and solutions become the most talked about, wanted, and shared among the 18 to 30 year old demographic. It generates and delivers influence marketing via word of mouth campaigns, product sampling, street team promotions, brand ambassador programs, event promotion, staffing and promo tours. The 8 month old self-funded startup also just launched its first product, ChatterMob, currently in private beta.