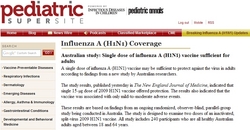 As confirmed cases of 2009 influenza A H1N1 continue to climb in the United States and abroad, our sites will keep members of the media and the medical community informed on the latest H1N1 virus news, as it develops
Thorofare, NJ (PRWEB) September 16, 2009
Tracking H1N1 since the outbreak, leading medical newspapers, Infectious Disease News and Infectious Diseases in Children offer a dedicated link to breaking news surrounding the influenza A (H1N1) virus on their websites. The latest developments on the flu virus can be accessed by clicking the "Breaking Influenza A (H1N1) Updates" link on the publications' websites InfectiousDiseaseNews.com and PediatricSupersite.com.
Infectious disease specialists and pediatricians rely on Infectious Disease News and Infectious Diseases in Children as their trusted sources of news, information and education. This expertise and focus makes the H1N1 reports a valuable resource for medical community, as well as the media.
As an authoritative H1N1 source, news is accompanied by physician perspective, bringing a deeper understanding of the information, through expert views and insights.
"The influenza pandemic that has been predicted for the last 40 years is upon us," said Dr. Theodore Eickhoff, Chief Medical Editor for Infectious Disease News and a professor of medicine at the University of Colorado Health Sciences Center in Denver, Colorado. He added: "As is true for influenza generally, expect surprises. Furthermore, it will not involve the country evenly, nor necessarily at the same time; distribution will be uneven, both in time and location and possibly in severity as well. It will be important to keep up with this pandemic as it evolves." According to a report released last week from the presidential advisory panel, H1N1 flu virus could cause up to 90,000 U.S. deaths during the 2009 fall season.
"As confirmed cases of 2009 influenza A H1N1 continue to climb in the United States and abroad, our sites will keep members of the media and the medical community informed on the latest H1N1 virus news, as it develops," said Joan-Marie Stiglich, Senior Vice President of SLACK Incorporated, the publisher of both newspapers. Recent articles, along with editorial commentary and blogs from the expert editorial boards of both publications, will continuously be posted online and readily accessible to registered users of the websites.
For more information on the influenza A (H1N1) virus and the issues surrounding it, or to learn more about Infectious Disease News and Infectious Diseases in Children, contact Patrick Duffey, Vice President, Mindworks Communications, at 856-384-1793, ext. 262.
Visit Infectious Disease News online at InfectiousDiseaseNews.com. Visit Infectious Diseases in Children online at PediatricSuperSite.com.
About SLACK Incorporated:
SLACK Incorporated is a leading provider of information to targeted health care specialties.
SLACK Incorporated produces 42 publications in print and online; publishes more than 250 medical and allied health books; creates and operates more than 50 Web sites and Internet-related projects; directs meetings and exhibits around the world; and produces custom newspapers and meeting supplements for a growing number of health care conventions and meetings.
###