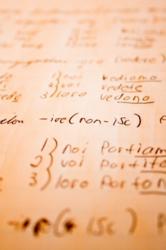 The sale of digital products online has helped retailers like Amazon, Apple and others to increase customer reach and revenue.
Danbury, Connecticut (PRWEB) January 01, 2013
Companies that create information products to sell online and offline can have difficulty translating these into different languages. The MarketersBlackBook.com website team have published a new guide here to help companies find reliable ways to have these products translated into over 65 languages. Companies that successfully translate a digital or physical informational product could increase sales revenue.
The sale of digital products online has helped retailers like Amazon, Apple and others to increase customer reach and revenue. The creation of MP3, PDF and other digital formats has helped to share digital products easier.
Businesses that produce booklets, learning courses and other offline items for educational purposes could benefit from having these translated into other languages. The new guide published online details one of the best methods available.
The Amazon Kindle platform is now available in most European countries. This opportunity is creating more ways that companies can distribute information for no cost or for sale around the world. The new MBB guide is one way that a business owner or entrepreneur with a new or existing catalog of info products can use to learn strategies for increasing sales. The sales of Kindle products have now surpassed print book sales online according to Amazon.com.
The MarketersBlackBook.com website has innovated its delivery of educational materials and training online and offline this year. Several new upgrades have taken place that have helped this company to expand its services to companies in the U.S. and Canada. A new online learning platform has been launched to stream live events entirely online. This online learning upgrade is helping to provide intensive training solutions to those that do not attend in-person live events.
Apart from the website innovations, the MBB company has created a new YouTube video channel to help deliver educational training online. This new video channel series includes interviews with product and service creators, tips and other strategies that are expanded upon in video form. This new channel can be accessed at http://www.youtube.com/marketersblackbook.
About Marketer's Black Book
The Marketer's Black Book company provides online resources to businesses and entrepreneurs that are growing products or services online. This marketing company offers educational materials for no cost from the basic portion of its website. This information is used to provide a starting point for others to learn the concepts of online marketing. The 2012 innovations at Marketer's Black Book have helped to bring in-person live events to online and offline companies. Through consulting and advanced online training, the experts that own this company are helping more business owners to expand income generation from products, services and brands online.