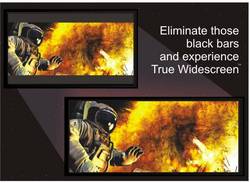 InFocus projectors certainly make the conversion to the 2.35:1 True Widescreen format easy for the custom installer
Colorado Springs, CO (PRWEB) September 5, 2007
InFocus® Corporation (NASDAQ: INFS) has selected Panamorph, Inc. as their preferred provider of add-on lens systems to deliver the rapidly growing 2.35:1 wide screen format to owners of its high performance home cinema projectors including the recently announced 1080p IN82. The 2.35:1 "aspect ratio" of image width to image height is the most popular format of major motion pictures due to its panoramic effect. When used with a 2.35:1 screen, Panamorph lenses allow InFocus projectors to fill the full height of the screen without black bars for a truly immersive viewing experience previously available only in the largest movie theaters.
InFocus Play Big home cinema projectors have Panamorph Mode I and Mode II advanced scaling capabilities built-in to work with all 2.35:1 Panamorph imaging configurations. In conjunction with a special attachment kit developed by Panamorph, converting an InFocus projector to the new format is as simple as adding the appropriate Panamorph lens system and upgrading an older 16:9 screen to the new 2.35:1 format screen.
"Our industry-leading home cinema projectors have been capable of exploiting anamorphic 'wide screen' lens technology for years," stated Robb Robles, Product Manager, InFocus. "Panamorph is at the forefront of delivering the high performance wide screen experience to demanding home cinema enthusiasts --- in other words, the typical buyer of an InFocus home projector --- at affordable pricing. We are very pleased that Panamorph now offers an InFocus-compatible solution, both for our new customers and for our large installed base of existing customers who want to upgrade their home theaters to this largest format."
"InFocus projectors certainly make the conversion to the 2.35:1 True Widescreen format easy for the custom installer," commented Shawn Kelly, President of Panamorph. "Because the projectors have the necessary scaling built in, it's just a matter attaching the anamorphic system, installing a 2.35:1 screen and showing the user how to engage the necessary imaging modes. And it's not just about having a wider format image and no black bars. Anamorphic technology allows movies in this ultimate wide screen format to be shown with an amazing 33% more resolution and 20% more light output. That's enough to want to watch your entire 2.35:1 library over again."
Home cinema enthusiasts can choose from a range of Panamorph solutions to use with their InFocus projector, from a lower cost "fixed" lens ($995 MSRP) for permanent conversion to 2.35:1, all the way up to a fully motorized and remote controlled lens system for the ultimate multi-aspect ratio performance ($5,995 MSRP).
Custom home theater installers can purchase Panamorph's optical system, including Panamorph's attachment system for InFocus projectors, directly from Panamorph. The attachment system is compatible with all recent InFocus Play Big models, including the InFocus Play Big SP777, SP7205, SP7210, IN76, IN78, IN81 and IN82.
About Panamorph, Inc.
Panamorph, Inc. is a privately held, leading manufacturer of anamorphic optical systems for the projection industry. Panamorph optics are sold as finished optical systems for integration by dealers/installers, as finished components for projector OEMs, and as optical components for integration into OEM projection systems. Panamorph technology combined with optimized electronic scaling represents the highest performance and highest value anamorphic projection imaging available. For more information about Panamorph technologies and products, please visit http://www.panamorph.com or call 719-235-5810.
Panamorph and True Widescreen are a trademark of Panamorph, Inc.
About InFocus Corporation
InFocus® Corporation (NASDAQ: INFS) is the industry pioneer and worldwide leader in the projection market today. Over twenty years of experience and engineering breakthroughs are at work here, constantly improving what you see in the marketplace, and delivering immersive audio visual impact in home entertainment, business and education environments. As the inventor and leader in the category, we focus on making the presentation of ideas, information and entertainment a vivid, unforgettable experience. We believe our innovation and products set the standard for what a big picture experience should be like.
InFocus Corporation's global headquarters are located in Wilsonville, Oregon, USA, with regional offices in Europe and Asia. For more information, visit the InFocus Corporation web site at http://www.infocus.com or contact the Company toll-free at 800.294.6400 (U.S. and Canada) or 503.685.8888 worldwide.
InFocus, IN, Proxima, LiteShow, LP, ASK, ScreenPlay, Play Big, Work Big, Learn Big and The Big Picture are either registered trademarks or trademarks of InFocus Corporation in the U.S. and abroad. "DLP" is a trademark of Texas Instruments.
###