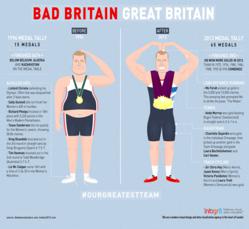 Team GB won more Golds in 2012 than in 1972, 1976, 1980, 1984, 1988, 1992 and 1996 combined.
(PRWEB) August 15, 2012
The Olympics 2012 may be over, but the iconic moves of the 'mobot' are sure to leave a lasting impression for generations to come. In honour of the mobot and the huge advance in Great British athletics over the last 16 years, new London based infographic design agency infogr8 decided to create a humorous visualization comparing the achilles heel disappointing moments of the 1996 Atlanta team compared to the strong, awe inspiring athletes of 2012.. our greatest team.
1996 saw a stark contrast compared to what was witnessed over the 17 days of competition at London 2012. Great Britain won its worst medals haul since 1952 and its lowest ever numerical ranking in the table (due to the greatly increased numbers of competing countries since the 1970s), this left Great Britain with numerous questions about the overall state of sport in the country. The National lottery was introduced in 1994 but it wasn't until after the Atlanta humiliation that the World Class Performance Programme started diverting funds into elite sport. This allowed athletes to devote themselves to their training, being paid living costs and delivering a diverse range of support services.
Sixteen years on and Team GB won more Golds in 2012 than in 1972, 1976, 1980, 1984, 1988, 1992 and 1996 combined, a truly monumnetal year!
infogr8 also produced a more conventional data visualization comparing the top 25 competing Countries over 2004, 2008, 2012 Olympic games. While China and the USA battled to prove their Olympic dominance over one another, yet again, the rest of the world were vying for third place. So using the past three olympics as a yard stick we can see who's got better, who's got worse and who's been resting on their laurels.