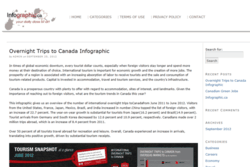 Only 5 months after the official launch the site has reached over 100,000 Canadians
Toronto (PRWEB) February 05, 2013
Art Branch, Inc., the parent company of Infographic.ca (http://www.infographic.ca) announced today significant audience growth. The website is intended for people who are interested in Canadian infographics.
Given the scarcity of websites dedicated to Canadian infographics, Infographic.ca was designed as a focal point for the Canadian infographic scene. The website was created by the content development team at Art Branch, Inc and in response to the growing popularity of infographic and image sharing websites like Pinterest.
"The tremendous visitors' growth of Infographic.ca has caught all of us at Art Branch, Inc. by surprise. Only 5 months after the official launch the site has reached over 100,000 Canadians," said John Williams, marketing consultant at Art Branch, Inc.
The website started with a modest marketing and content creation budget and gained momentum fast. Infographic.ca has been visited by over 100,000 Canadians. There are no websites that showcase Canadian-themed infographics. This is a good marketing opportunity, and Infographic.ca aims to offer Canadians their own infographic hub. The website is updated regularly with well-designed, intriguing, and informative infographics.
Infographics tell stories with unexpected twists and have an incredible staying power. Combining unexpected information, they entertain and educate us and challenge our assumptions. Infographics help visitors to interpret concepts and ideas and enhance their comprehension. They describe ideas clearly and precisely and capture the imagination of viewers. Information is well organized and presented in a highly digestible form. Infographics are intended for visual learners. Today, more than 2/3 of people learn new concepts by associating them with graphs, images, maps, and charts. Intelligent, intriguing, and clear information graphics are also ideal for demanding readers. An infographic is not just an eye candy. It uses language, symbols, pictures, and graphs to tell a compelling story. While infographics combine different elements, viewers can absorb the message at a glance. Information graphs aid meaningful analysis, capture the audience, and create a buzz.
About Infographic.ca: Infographic.ca is a Canadian infographic showcase website created by Art Branch, Inc., reviewing interesting infographics made in Canada.
About Art Branch: Art Branch, Inc., located in Toronto, Ontario, is the publisher of Infographic.ca and has produced several consumer oriented websites, targeting worldwide audience. The goal of Art Branch is to provide visitors to company sites with free, useful guides, helping consumers to make educated choices.