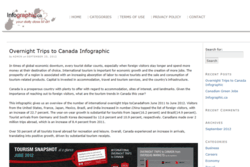 A good infographic is an indispensable tool in the arsenal of every online marketer and can have a tremendous positive impact in terms of branding and acquiring mind share
(PRWEB) February 20, 2013
Infographic.ca announced today the launch of a new service (http://www.infographic.ca/online-marketing), intended for businesses that are looking for online marketing services.
Created by the web design and development team at Infographic.ca, the website offers reviews of informative and well-designed infographics from Canada and around the world.
"A good infographic is an indispensable tool in the arsenal of every online marketer and can have a tremendous positive impact in terms of branding and acquiring mind share," said John Williams, marketing consultant at Infographic.ca.
With the rapid increase in popularity in the last couple of months, Infographic.ca started getting requests for design and promotion of infographics and now offers marketing services. The demand for creatively designed infographics has skyrocketed. The goal of Infographic.ca is to offer memorable infographics and unique solutions to data visualization problems. The first and most important service offered is infographic design and promotion, including data research, creating a storyline, design and promotion. Publishing infographics is a way to provide global coverage and appeal to a wide audience. Infographic.ca also offers guest posting services and press release writing and distribution. Infographics come with creative bar graphs and pie charts and a compelling story that is worth telling. A well designed infographic offers a unique visual representation of concepts, facts, and ideas. Infographic promotion is also important because it can help companies to build a brand and offers visitors great content that is inherently viral and engaging.
Designing and promoting an information graphic is not the same as designing a logo, flyer, or website. Good designers use graphs, data, and the right color combination to tell a compelling story. Data visualization is a tool that they use to incorporate bits of information and create a visually stimulating, creative design.
Infographics use shapes, graphs, and creative wording to offer valuable information. They help communicate with online audiences and share valuable ideas. These qualities engage the visitors, awaken interest, reduce boredom, and ensure that great content is being presented. Good designers use unique graphs, images, and other bits of information to make sure that the design stands out.
About Infographic.ca: Infographic.ca is a website focused on presenting the best of the world of infographics to Canadian audience.