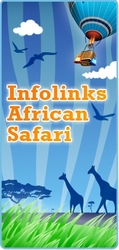 "We genuinely believe in giving back, even while spoiling our publishers."
Palo Alto, CA (PRWEB) March 25, 2011
Infolinks.com knows how to celebrate. After a two month long series of promotions entitled "Happy New Website," leading up to the launch of their brand new site, Infolinks announces the pièce de résistance – an exotic vacation for two in Africa.
Infolinks' new website is centered on the concept of "Let Your Revenue Fly High with Infolinks." The sky blue background and images of rockets and hot air balloons help to convey this uplifting message. To further instill this idea of flying high with Infolinks, the VIP getaway includes a hot air balloon safari where the winner and his or her partner can gaze upon the picturesque African plains of Maasai Mara while watching wild animals in their natural habitat and indulging in 5-star accommodations.
Infolinks is also sponsoring a day of "Giving Back" for the winner and his or her guest to volunteer by tree planting for the day. "We want this to be a trip of a lifetime for one lucky winner and their guest, "remarked CMO Tomer Treves. "But we genuinely believe in giving back, even while spoiling our publishers."
This grand expedition can be won by any Infolinks publisher that has reached the minimum payout threshold and is a fan of Infolinks on Facebook.
To enter into this extravagant contest, Infolinks publishers must send an email containing their name (as appears on their Facebook account) and Publisher ID number to blog(at)infolinks(dot)com. The cut-off day for applicants is June 25, 2011. On the 30th of June the winner will be drawn randomly and announced. To read more terms and conditions click here.
This Infolinks sponsored deluxe excursion bypasses any previous promotion hosted by an In-Text ad provider because of its cost and unique quality. "This competition is the biggest Infolinks has hosted so far," shared Tomer Treves. "We expect to receive a record-breaking amount of applicants for this exotic getaway."
About Infolinks
Infolinks, established in 2007 and backed by Primera Capital, is the fastest growing provider of In Text advertising services. Since the company's incorporation, thousands of websites worldwide have integrated Infolinks In-Text ads. Infolinks utilizes cutting-edge technology to guarantee its publishers receive the highest revenue.
###