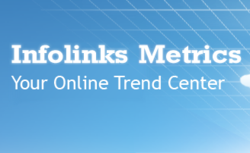 By knowing which keywords are most popular, advertisers can bid better on keywords and publishers will get better ideas about what highly profitable topics to cover on their websites.
Palo Alto, CA (PRWEB) April 19, 2012
The newly released Trend Center, powered by Infolinks' smart algorithm, regularly delivers the hottest trends online for publishers to keep web content fresh and relevant. Infolinks' patented algorithm crawls and analyzes billions of searched terms and keywords monthly, in order to deliver the most relevant ads to publishers and advertisers. The Trend Center uses this fine-grained information to take an in-depth look into the data according to the geo-location, niche and other relevant factors to supply the ten hottest and best paying keywords for a specific website niche every week. Read this week's post about the 100 year anniversary of the Titanic.
"The Trend Center is an excellent tool for both advertisers and publishers alike, who can now follow the newest and hottest trend in different web niches," shared Infolinks Marketing Director Shay Klapper. "By knowing which keywords are most popular, advertisers bid more effectively and publishers are inspired as to what highly profitable topics to cover on their websites." Since Infolinks algorithm delivers advertisements in real-time, advertisers' bids are deciphered and awarded based on the highest paying, more relevant keywords located within the publishers' text.
Infolinks publishers and advertisers can stay informed about new products, promotions and more via Infolinks Blog, Fan Page and Twitter Feed. Infolinks recently launched a Pinterest account to share Interesting Infographics, Blog Designs and to feature some of their very own Blogstars.
About Infolinks
Infolinks is the fastest growing online advertising network. Since 2007, the company has connected tens of thousands of websites and advertisers worldwide. Infolinks utilizes innovative technology to guarantee its advertisers yield optimal results and its publishers receive the highest revenue share. The Infolinks Pay Per Click Advertising platform enables advertisers and website owners to benefit from contextual In-Text advertising directly. Infolinks also offers cutting-edge monetization products such as Tag Cloud, Related Tags and Search Widget.