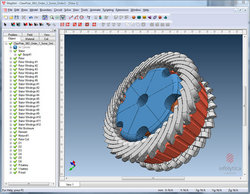 The potential of multicore has not been realized as many software developers have not optimized their code for this platform. We are proud that Infolytica will be one of the first
Montreal, QC (PRWEB) August 13, 2009
Infolytica Corporation, http://www.infolytica.com , today announced that MagNet, the company's electromagnetic field simulation software based on finite element analysis, will include significant changes in the next release which is due out this fall. Version 7 will be a multi-threaded application and will leverage the computation power available with multicore platforms.
MagNet v7 will see a radical transformation in the computational algorithms for solving, post-processing, meshing and other features of the software. The algorithms are parallelized to run on multiple cores simultaneously and allow for multi-threaded operations. This change, with other improvements to the software, will result in significant speed ups.
"The potential of multicore has not been realized as many software developers have not optimized their code for this platform. We are proud that Infolytica will be one of the first," said Behzad Forghani, Vice-President of Infolytica Corporation.
"We are entering the last phase of development and continuing testing over the summer. This is a major undertaking - in addition to all the other refinements that are being made to MagNet, we are redefining the potential of FEA by offering our customers a faster solution to better design. "
To demonstrate the increase in performance, a transient 3D simulation of a clawpole alternator was performed using an internal build MagNet v7 on a quadcore processor. A combination of system improvements and using multi-threaded algorithms, a speed up factor of 2.8x was achieved on two threads, increasing to 3.8x using four threads.
MagNet v7 also features other improvements, such as a refreshed and reorganized graphical user interface that includes new CAD functionality and crisper post-processing visualizations.
ThermNet v7, the thermal simulation software which couples with MagNet for accurate heating and loss predictions, is also updated to include the same enhancements.
ElecNet v7, the electric field simulation software from Infolytica, is also due out at the same time.
For downloadable images, visit http://www.infolytica.com/en/news/releases/images/MN7_gui_preview.jpg and http://www.infolytica.com/en/news/releases/images/MN7_speedup.jpg.
Pricing and Availability
MagNet, ElecNet and ThermNet version 7 is scheduled for release in September 2009. For information regarding pricing or evaluations, please contact an Infolytica Corporation representative nearest you.
About Infolytica Corporation
Infolytica Corporation is a developer of electromagnetic field simulation software used in the design and analysis of motors, generators, transformers, actuators, induction heating applications, sensors and more. Please visit http://www.infolytica.com to view our full range of software and design solutions.
Contact:
Chad Ghalamzan
514-849-8752 x 300
Chad (at) infolytica (dot) com
###