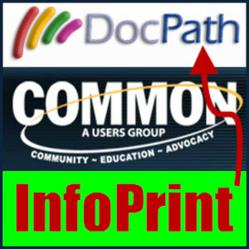 InfoPrint Designer allows an efficient migration from old projects to an advanced technology that simplifies and improves the documentation process whilst the company maintains the same technical environment.
Anaheim, CA (PRWEB) April 26, 2012
DocPath will attend the COMMON 2012 Annual Meeting and Exposition, more commonly known as COMMON 2012. The event will take place in Anaheim (California, USA) between the 6th and the 9th of May. In this edition, DocPath will present to the American market how companies can migrate easily and securely from the IBM® InfoPrint ® Designer tool to DocPath technology.
COMMON 2012 is an international event and the largest gathering of Power Systems (which includes System i) users, where visitors will get a first-hand look at the technological innovations of the ICT industry related to the IBM i , AIX and Linux platforms.
At the COMMON 2012 show in Anaheim, USA , DocPath will show users of InfoPrint® Designer how to migrate safely to the Boulder Suite solution.
At the DocPath stand, number 400, we will explain the simplicity of the migration
In recent years, DocPath has detected the technological gap which is perceived by InfoPrint Designer users. Therefore, DocPath wanted to provide a practical and simple solution: a migration to a more modern and powerful system that guarantees successful and efficient operation on the current platforms and on those to be developed in the future.
Security Guaranteed
At COMMON 2012, System i users can see at first hand how they can easily replace InfoPrint Designer with the DocPath Boulder solution. This software allows an efficient migration from old projects to an advanced technology that simplifies and improves the documentation process whilst the company maintains the same technical environment.
DocPath Boulder Suite enables users to continue to operate with their current applications and also allows them to: maintain their data and reorganize the data, convert old projects into new and optimized designs, modify the new documents through a multi-language interface that is intuitive and user-friendly; interact easily between Windows and System i, and to generate documents using different output formats with a range of extensive print and distribution features.
DocPath has created three complementary versions of Boulder Suite to suit the specific needs of users of the System i environment. Boulder Essential Suite is ideal for companies with limited printing needs; Boulder Suite Pro supports multiple output formats and enables distribution via printers, faxes or e-mail; and Boulder Advanced Suite offers an unlimited number of prints for users that require high-volume generation.
About COMMON 2012
COMMON 2012 Annual Meeting and Exposition is considered the largest annual gathering and exposition in the world of Power Systems users. In fact, it has become the main forum for exhibitors and attendees by providing the latest developments made in the technological market.
This year, COMMON has more educational sessions, more networking opportunities and panel discussions on various topics related to the ICT world. Moreover, the IT Executive Conference will bring together the presidents and managers of major companies in this area.
For more information, visit, http://www.common.org/index.php/annualmeeting.html
About DocPath
DocPath is a leading document technology software manufacturer. Founded in 1992, its headquarters is located in Madrid with two other design and development offices. DocPath solutions are found in companies all over the world. Among its i nternational clients are prestigious banks and first-class corporations, which are aided by DocPath solutions by simplifying the complicated and critical tasks involving design and the distribution of documents. DocPath maintains a strong commitment to R&D&i, an area that receives a good amount of its revenue, and in which lies the key to the company's success.
For more information, visit http://www.docpath.com
DocPath is a registered trademark of DocPath Corp. All rights reserved. Other trademarks may be the property of their respective owners.