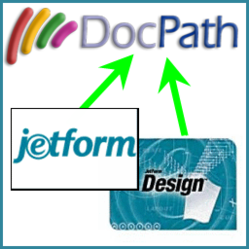 DocPath detected early on the technological gap of two of them: JetForm and InfoPrint Designer
Suwanee, GA (PRWEB) December 18, 2011
Close collaboration with customers has allowed DocPath, a leader in document software, to further enhance its already reliable and stable applications. With the advances in these new "releases", DocPath offers a safe and easy migration from obsolete JetForm / JetForm Designer or InfoPrint Designer technology to a modern document software platform.
Technological progress is unstoppable, which is why software can sometimes become obsolete with the passage of time, even though the same software was considered to be cutting-edge in the past. Being fully aware of this reality and to new business demands, DocPath sought to give a practical and simple solution: a migration to a modern and powerful environment.
Some of the software used internationally have fallen into this obsolete status. This has occurred because the software did not keep up with the technological pace of the market. DocPath detected early on the technological gap of two of them: JetForm and InfoPrint Designer. In response to its customer's demands, DocPath has developed for a safe and easy migration path for both technologies, which ensures its success in both, current and future platforms. Additionally, there is no need to modify existing applications, which without doubt, represents an added value.
InfoPrint Designer
The InfoPrint Designer product, an application created years ago by IBM for the System i platform, has had no further development, and since 2003 no maintenance is provided to users who still operate with it.
InfoPrint Designer suffers important shortcomings, which DocPath has managed to detect. In response to these deficiencies, DocPath has provided a means of survival to its current users. In June 2011, DocPath announced it had developed a mechanism to reuse the original designs of InfoPrint Designer and export them to the formats of DocPath's document software solutions. Thanks to a module that simulates the same logic -reason why its possible to continue using it in the same way- it is possible to process these original documents.
In recent months, DocPath has been working closely with clients who had relied on DocPath's document software to migrate from InfoPrint Designer to a state-of-the-art document design, generation and distribution environment. The result of this collaboration is the recent release of the latest of their applications, which makes changing technology even faster, easier and safer.
One single product allows to create or re-create documents with DocPath logic, offering companies more advanced features that are consistent with current technology. Some examples are the generation of dynamic documents and greater interactivity with the Web.
This means that InfoPrint Designer customers can migrate transparently to the DocPath platform without rebuilding their designs, using the Boulder Suite solution. Boulder Suite not only allows these users to do what they did before, but they also have the choice to opt for new features. DocPath's Boulder Suite is available in three versions: Boulder Suite Essential, Boulder Suite Pro and Boulder Suite Advanced.
JetForm / JetForm Designer
The technology, still known as JetForm, is a software that has been the property of several companies, but is now owned by Adobe Systems Inc. JetForm was one of the first commercially available tools that facilitated the printing of electronic documents, making the most of the laser printers capabilities, among other applications.
In JetForm's case, DocPath can now demonstrate how easy it is to migrate systems based on JetForm technology, because the success of the migration process is based on the fact that DocPath supports the same fonts and data formats ("data streams") JetForm used to generate documents. On top of this, as a result of JetForm migrations being the same case as the migrations coming from InfoPrint designer, and based on DocPath´s previous experiences with customers migrating from JetForm technology and the JetForm Designer to its current document software, some infrequent, specific cases occurred that allowed the company to further improve its already stable and trustworthy software to ease even more the migration of forms created with JetForm to DocPath Designer and making any change to the existing application unnecessary. After migrating, it is possible to continue using the existing data formats used before for the generation of documents.
Internationally renowned major customers, who trusted fully in DocPath for achieving a successful migration process, support the ease of migration with DocPath's document software solutions.
DocPath Ipanema Technology
With these new versions, as well with the new technology developed by the company - DocPath Ipanema Technology- the success of the migration process from JetForm technology / JetForm Designer or Infoprint Designer to modern software applications of DocPath's document software is guaranteed. Continuity is assured, because with its commitment to this modern technology, DocPath revolutionizes document software with a multiplatform and multilingual design and document generation environment.
About DocPath
DocPath is a leading manufacturer of document software technology. Founded in 1992, with headquarters in Madrid and two development centers,implementations of their solutions are present in companies around the globe. DocPath facilitates its international clients, including prestigious banks and top corporations, the difficult and complex task of designing, generating and distributing their critical business documents. DocPath maintains a strong commitment to R & D, an area to which it devotes a good part of its income, and in which lies a key to its success. For more information, visit: http://www.docpath.com
DocPath and the DocPath logo are trademarks of DocPath Document Solutions. All rights reserved. Other trademarks may be the property of their respective owners.
Press Contact:
DocPath Communications Department.
Tel.: +34 91 803 50 00
communcations(at)docpath(dot)com
###