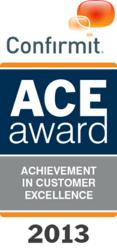 ...their unyielding commitment to customer satisfaction has once again...
Clinton Township, MI (PRWEB) May 28, 2013
Godlan, an ERP manufacturing software specialist (SyteLine ERP) and Infor Gold Channel Partner, announced today that it congratulates Infor on their 2013 Confirmit ACE (Achievement in Customer Excellence) Award. This marks the fifth successive year the company has won ACE Award honors, in a testament to Infor's long-term commitment to exceptional customer support through its Xtreme Support program. It also demonstrates the level of importance Infor places on delivering personalized, proactive services to users.
The Confirmit ACE Awards program acknowledges outstanding achievement in customer satisfaction, employee satisfaction, and/or partner satisfaction. To qualify for the award, Confirmit Voice of the Customer (VoC) solutions clients must achieve a combination of customer satisfaction mean scores and top-box rating percentages that are maintained for at least a six-month period between October 1, 2011 and December 31, 2012. Receiving a Confirmit ACE Award demonstrates the recipient's rigorous application of customer feedback processes and its outstanding performance as measured by those processes.
Infor earned this recognition based on the outstanding ratings received by its Xtreme Support program.
"We are very proud to be a Gold Channel Partner with Infor and that their unyielding commitment to customer satisfaction has once again earned this tremendous honor for the organization," said Joe Mansueto, Customer Solutions at Godlan.
Godlan was awarded North America SyteLine ERP Partner of the Year by Infor in 2011 and is an approved Infor Gold Channel Partner serving customers for 28 years. For more information, visit godlan.com or call 586-464-4400.
###
About Infor
Infor is one of the world's largest providers of enterprise applications and services, helping 70,000 customers in 194 countries improve operations, drive growth, and quickly adapt to changes in business demands. Infor offers deep industry-specific applications and suites, engineered for speed, using ground-breaking technology that delivers a rich user experience, and flexible deployment options that give customers a choice to run their businesses in the cloud, on-premises, or both. To learn more about Infor, please visit infor.com.
About Godlan, Inc.
Godlan is a leading manufacturing performance specialist that has been implementing integrated technology solutions since 1984. As an approved Infor Gold Channel Partner with a focus on Infor SyteLine ERP, Godlan supports the implementation of world-class processes and best practices throughout discrete manufacturing organizations. For more information about Godlan, its mobile application InSync Anywhere, or Infor SyteLine ERP manufacturing software demos, call 586-464-4400 or visit godlan.com.