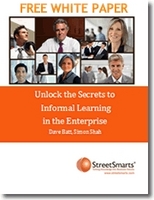 Unlock the Secrets to Informal Learning in the Enterprise
Chicago, IL (PRWEB) September 1, 2009
StreetSmarts® Inc. today announced the availability of a new white paper designed to address the key challenges surrounding informal learning in the enterprise. The free white paper titled "Unlock the Secrets to Informal Learning in the Enterprise" outlines key issues that organizations need to address to take learning within the workplace to its next logical level and is available for download at streetsmarts.com/informal-learning-secrets
The paper outlines the state of informal learning today. Informal learning is the learning that takes place outside formal classroom based training and study programs in the workplace and the paper highlights why this issue is now top of the Chief Learning Officer's agenda. It discusses how the economy has shifted towards a greater need to informal learning initiatives, how the rise of the Millennials in the workforce are driving organizations to rethink their informal learning strategies and the role technology can play in harnessing informal learning across the enterprise.
"Informal learning in the workplace has become so topical over recent years but has been that elusive 'holy grail' that many learning leaders have aspired to, but never really known how best to tackle" said Dave Batt, CEO and Founder of StreetSmarts® Inc. "With the growth of enterprise social networks and the rise of the Millennial or Gen Y demographic, informal learning is now firmly back in the limelight. This paper outlines why companies should pay attention, how they can make a start and more importantly how they should address some of the key concerns within an enterprise setting such as compliance, security and business process management."
The American Society for Training and Development (ASTD) and The Institute for Corporate Productivity (i4cp) released an eye-opening report in 2008 that outlined the paradox informal learning possesses in the enterprise. The study showed that more than 70% of the knowledge that employees acquired, came from informal learning experiences. Yet the same report calls out that 78% of companies surveyed allocate less than 10% of their training budgets to informal learning. These are staggering numbers.
"As more CEOs focus on talent as a top priority, business drivers are shedding new light on the importance of informal learning. We are seeing a significant increase in coaching, mentoring & leadership development where companies are recognizing shareholder value by formalizing informal learning at all levels of their organization as a key strategy to be successful," said Dirk Tussing, Principle & Founder, Executive Learning Exchange.
StreetSmarts® 5.0 is based on a Software-as-a-Service (SaaS) platform that unites company-wide knowledge management and enterprise social networking components to deliver business value for enterprise wide knowledge based and line of business initiatives such as sales effectiveness, channel enablement, training reinforcement and transforming intellectual capital into actionable knowledge through information management.
About StreetSmarts®
StreetSmarts® was first introduced in the market in 2003 as an Internet application with innovative capabilities - An enterprise-class application built upon one of the first consumer-focused "word of mouth" recommendation platforms for the Internet. StreetSmarts® evolved further in 2004 and released the first SaaS platform combining social networking, collaboration, knowledge and content management, to provide an enterprise knowledge automation solution designed to collect, capture and disseminate valuable organizational knowledge the moment it is required - available via any device, application or through the web. Unlike the social media tools available today, StreetSmarts® is engineered for organizations from the bottom up, with the appropriate business processes, security and auditing capabilities so necessary for social media initiatives across the enterprise.
StreetSmarts® continued its rich heritage of innovation with the release of StreetSmarts® v5.0 in January 2009. This enterprise-caliber application is optimized to help companies drive organizational performance across multiple lines of business, throughout their diverse and distributed workforce, from a single application platform. StreetSmarts® takes a unique approach to the market by connecting to existing business systems to leverage an organization's knowledge bases, capturing know-how that was previously locked in peoples' heads and disseminating relevant information to people on-demand so they can do their jobs better.
Because of its adaptive, lightweight nature and built in usability features, StreetSmarts® is able to provide a working solution specific to each client's business requirements in a matter of days, rather than months of complex software deployments. In addition, this also allows clients to quickly react to changing new business practices and external market conditions without the need for massive customization or programming.
###