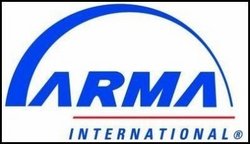 Lenexa, KS (Vocus) April 1, 2009
Records are the foundation of compliance and the key to success for organizations - big or small, public or private - in any industry. Litigation professionals, too, are becoming painfully aware of the need to manage e-mail at an organizational level in order to mitigate risk during the legal discovery process. Businesses are also coming to realize greater efficiency and cost savings due to better information management. As a result, recordkeeping best practices have become a process and skill needed by not only records professionals, but by every employee.
Due to the exponentially expanding volume of information available and the pressing need to manage information correctly, ARMA International is pleased to announce a set of Generally Accepted Recordkeeping Principles (GARP)℠.
Through these principles, ARMA International provides a framework for guidance in implementing information management programs to help business leaders, legislators, the judiciary, and other stakeholders understand and address the key components of records and information management as a discipline and as a best business practice. The principles were developed from related information management legislation, the combined experiences of the task force members, applicable ARMA International, ANSI, and ISO standards, the recommendations of ARMA International's more than 11,000 professional practitioners, and case law.
Each of the eight principles has an expanded description containing detailed information on how to ensure organizations are meeting the criteria for a sound information management program. These descriptions, as well as other information on the principles, can be found at arma.org/garp.
The eight Generally Accepted Recordkeeping Principles℠ are:

Accountability
Integrity
Protection
Compliance
Availability
Retention
Disposition
Transparency
Using these generally accepted principles as a guide helps to ensure that the company's most important assets, their records, are used correctly to support the organization's essential activities such as budgeting, planning, demonstrating compliance with laws and regulations, and other day-to-day operations.
A task force was initially formed to help encapsulate these principles. It was comprised of a multi-disciplined group of widely respected professional practitioners at the highest levels of their professions. ARMA International members and non-member stakeholders then reviewed the proposed principles and submitted comments that were taken back to a task force for review and consideration. This same task force will continue to monitor legislation and case law and will recommend changes to the principles when appropriate. The principles have been approved by the ARMA International Board of Directors.
For more information about the Generally Accepted Recordkeeping Principles℠ or ARMA International, please visit http://www.arma.org .
About ARMA International
ARMA International is a not-for-profit professional association and the authority on managing records and information. It is known worldwide for setting standards and best practices, and for providing comprehensive education, publications, and information on the efficient maintenance, retrieval, and preservation of vital information created in public and private organizations in all sectors of the economy. Formed in 1955, ARMA International is the oldest and largest association for the records and information management profession with a current international membership of more than 11,000. It also publishes the Information Management Magazine.
# # #