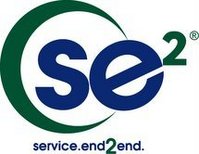 What differentiates se² in the marketplace is we leverage state-of-the-art technology and a rich heritage of insurance industry experience. This unique combination of capability, knowledge and skill allows us to develop the right solution at the right time
Topeka, KS (PRWEB) September 17, 2009
se2 (service.end2end) today announced that it earned a spot on the 2009 InformationWeek 500, an annual listing of the nation's most innovative users of business technology.
A provider of business technology and processing solutions for the financial services and retirement planning sector, se² has grown rapidly through innovation, breaking onto the list in just its fifth year of operations. The 2009 InformationWeek 500 companies were revealed on September 14, 2009, at an awards ceremony during the InformationWeek 500 Conference at the St. Regis Monarch Beach Resort in Dana Point, California.
"What differentiates se² in the marketplace is we leverage state-of-the-art technology and a rich heritage of insurance industry experience. This unique combination of capability, knowledge and skill allows us to develop the right solution at the right time," said Chief Technology Officer, Brent Littleton.
InformationWeek 500 recognized se² for its development of a new software solution, 403(b)connect, available to the entire insurance industry. This technology solution is focused on supporting new Internal Revenue Service (IRS) compliance regulations for the 403(b) retirement industry, which mainly includes retirement plans for teachers, doctors, nurses and others affiliated with the education and hospital marketplace.
403(b)connect has been recognized as one of the few solutions advanced enough to support Retirement Plan Providers, Plan Sponsors, Plan Administrators and Third Party Administrators (TPA). Thanks to 403(b)connect, investors, providers and administrators can have confidence they are using the most comprehensive and sophisticated software product available in the marketplace.
"For over 20 years, the InformationWeek 500 has honored the most innovative users of business technology," said InformationWeek Editor-in-Chief, Rob Preston. "Year after year, InformationWeek 500 companies harness technology to improve efficiency, boost productivity, drive revenue, and establish a competitive advantage. We applaud this year's winners, and the CIOs and other executives whose ingenuity and risk taking are at the center of business technology innovation."
InformationWeek identifies and honors the nation's most innovative users of information technology with its annual 500 listing, now in its 21st year, and also tracks the technology, strategies, investments and administrative practices of America's best-known companies. Top winners have included: Conway, National Semiconductor, Kimberly-Clark, Hilton Hotels and Unum. The InformationWeek 500 rankings are unique among corporate rankings as it spotlights the power of innovation in information technology, rather than simply identifying the biggest IT spenders.
Additional details on the InformationWeek 500 can be found online at http://www.informationweek.com/iw500/.
Latest se2 news:
se2 Grabs Global Honor, Besting All Entries Around the Globe in IDG's Computerworld Honors Program
se² Named Winner of Kansas Department of Commerce 'Business Appreciation Award'
About se2
se2 provides business technology and processing solutions for the financial services and retirement planning sector. se2 offers service end-to-end for life and annuity processing with an award-winning state-of-the-art technology platform and an astute understanding of regulatory compliance issues unique and specific to the financial services industry. se2's life and annuity acumen, coupled with its dedicated processing capabilities, places it in the forefront of the business processing outsourcing (BPO) industry. se2 is a subsidiary of Security Benefit Corporation, a financial services holding company. For more information about se2, please visit http://www.se2.com.
Press Contact for se²:
Michel' Philipp Cole
785.438.3396
###