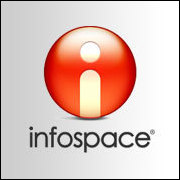 London, UK (PRWEB) June 23, 2006
Online and Mobile company InfoSpace, Inc. (NASDAQ:INSP) has released a new microsite dedicated to its European search services at http://www.infospace.co.uk/uk.directory/eurosearch.
Dominic Trigg, vice president at InfoSpace Search & Directory for InfoSpace Europe explains, "Our European Search microsite has been built to display our growing European search business. Directed at marketing and commercial senior executives and decision makers at media companies, the new site aims to inform them about the changes in the search-driven realms and how they may benefit from our award-winning technology and products."
The Web site, created by design agency id graphic design, showcases InfoSpace's proprietary metasearch technology, which fetches highly relevant results from all the major search engines, including Google, Yahoo!, MSN and more than 10 other engines, as well as the company's online directory services, customisable toolbars, Pay-Per-Call offerings and contextual products and services.
The microsite highlights InfoSpace's ability to provide its search solutions as a white label offering, which presents companies with new revenue opportunities without detracting from their own branding. Current white label clients include International Data Group (IDG), Lycos, Seekport and TEAMtalk.
Click on Media Alerts http://snipurl.com/EC_media_alerts to register to receive forthcoming news from Elemental Communications and its clients.
This press release is available in PDF, plain text and Word formats in the Media Centre. Photographs are available of the InfoSpace team in the Images section.
The media spokesperson for InfoSpace Europe, Search & Directory is Dominic Trigg, vice president.
About InfoSpace Web Search
http://www.infospaceinc.com/search
InfoSpace markets Web search and online directory products that help users find the information they need while creating revenue opportunities for merchants. The Company operates a family of Internet properties that includes WebFetch, Dogpile, Switchboard, WebCrawler, InfoSpace.com and MetaCrawler. InfoSpace also powers Web search, along with online yellow and white pages, for a variety of Web sites.
About InfoSpace
InfoSpace, Inc. (NASDAQ: INSP) drives mobile media innovation. With one of the world's largest mobile content libraries, InfoSpace makes it easy for consumers to discover, personalize and enjoy their on-the-go experiences.
The company uses its superior discovery, merchandising and technology capabilities to help facilitate the delivery of original and licensed content across hundreds of mobile devices and through multiple channels.
InfoSpace also mobilises brands and creates programming and revenue opportunities for mobile operators. The company's products and services have extensive reach in North America and Europe through carriers such as Cingular Wireless, Sprint Nextel, T-Mobile, Verizon Wireless, and Virgin Mobile; in partnership with world-class brands such as Cablevision and Fox News; and through online Web sites such as Dogpile (Dogpile.com), which showcase the company's leading metasearch technology and key advertising partnerships with companies like Google, Yahoo!, Verizon SuperPages and Yellowpages.com. More information can be found at http://www.infospaceinc.com.
Rachel Hawkes, Account Director
Tim Gibbon, Director
Telephone: +44 (0) 870 745 9292
Mobile: +44 (0) 776 665 1244
Fax: +44 (0) 870 745 9293
Website: http://www.elementalcomms.co.uk
Address: Second Floor, 145 -157 St John Street, London, EC1V 4PY, England, UK
# # #