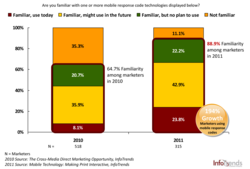 While the mobile channel continues to evolve and grow, print and other traditional media platforms continue to be an important element of the media mix
Weymouth, MA (PRWEB) December 15, 2011
InfoTrends is pleased to announce the availability of a new study entitled Mobile Technology: Making Print Interactive, which examines how mobile technology is being integrated with print and other media types to activate, cultivate, and engage audiences.
When mobile technology is integrated with marketing, advertising, and media, it provides a clear call-to-action and an instant response mechanism to prompt consumer engagement. Even so, consumers are bombarded with a sea of marketing messages every day, and only the most relevant messages will stand out. This study explores what specifically drives consumers to interact with mobile codes, mobile messaging, and augmented reality, as well as critical success factors from marketers and service providers when developing integrated mobile campaigns and applications. In this effort, InfoTrends conducted an extensive analysis of surveys with over 1,100 consumers, 315 marketers, over 80 print service providers, and 13 key mobile content and technology providers to capture a wide range of perspectives.
One of the key mobile response technologies driving offline-to-online engagement is mobile codes, including Quick Response (QR) codes, Microsoft Tag, image recognition, and digital watermarks. While mobile codes started gaining momentum in the U.S. just a few years ago, InfoTrends estimates that over 180 million Americans have familiarity with mobile codes, and over 50 million Americans have interacted with mobile codes in the past year. Ease-of-implementation has driven marketers and advertisers to embrace the use of mobile codes, resulting in widespread awareness and a respectable level of interaction among consumers. In fact, use of mobile codes by marketers in their campaigns grew 194% from 2010 to 2011, and overall awareness improved from 64% to 88%.
Substantial Growth in Marketers Using Mobile Codes
While mobile codes can easily be integrated with print and other media types, simply placing a code somewhere does not mean people will interact with it. Consumers reported coupons, deals, discounts, loyalty programs, sweepstakes, and competitions are the top factors associated with an integrated campaign that will prompt interaction. In addition, those in the 25 to 34 age group reported the highest level of interaction with mobile codes; those that interact also skewed more male and in affluent income levels. The type of offer and the target audience are key considerations for companies looking to integrate mobile codes or any other type of mobile response technology with different media types.
"While the mobile channel continues to evolve and grow, print and other traditional media platforms continue to be an important element of the media mix," commented Bryan Yeager, Senior Consultant at InfoTrends. "These offline platforms can be used as a springboard for online engagement with the use of mobile technology. Marketers and advertisers need to know their audience, deliver clear value, and provide a superior end-to-end experience to prompt engagement and sustain consumer interest."
This study provides comprehensive consumer demographic information across mobile codes, mobile messaging, and augmented reality to help marketers, advertisers, and media companies more effectively utilize these technologies. It also highlights best practices, challenges, and opportunities for technology and service providers that are already in or looking to enter the offline-to-online engagement space.
Mobile Technology: Making Print Interactive is available for immediate purchase. For more information, please contact Matt O'Keefe at +1 781 616 2115 or e-mail matt_okeefe(at)infotrends(dot)com. End of year discounts are available through December 23, 2011.
InfoTrends, a Questex company, is the leading worldwide market research and strategic consulting firm for the digital imaging and document solutions industry. We provide research, analysis, forecasts, and advice to help clients understand market trends, identify opportunities, and develop strategies to grow their businesses. Additional information about InfoTrends is available on the Web at http://www.infotrends.com.
Copyright 2011 InfoTrends. All rights reserved. Reproduction or reuse of InfoTrends materials is strictly prohibited without prior written consent.
For media inquiries contact Allison Jones at +1 781 616 2108 or allison_jones(at)infotrends(dot)com.
###