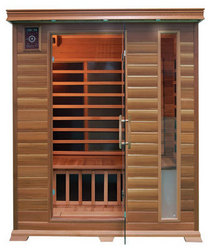 Warm Mineral Springs, FL (PRWEB) April 3, 2009
EvolutionHealth.com introduces the 5 essentials tools for health that will provide you body detoxification, clean air, clean oxygenated water, functional strength exercise, and inversion.
BODY DETOXIFICATION: Infrared sauna Therapy was recently featured on Oprah. Dr Oz. spoke of the benefits of Infrared Sauna Therapy to lower blood pressure. Raise your metabolism and burn up to 700 calories in one session. There are many other benefits as well including increasing blood circulation and sweating out toxins. Infrared Sauna Therapy helps with reducing joint stiffness thus increasing flexibility in your body.
An infrared sauna is a sauna that heats its occupants with heaters that emit far infrared radiant heat. Unlike traditional Finnish Saunas, infrared saunas do not use steam, (which heats the air, and thereby the user) but instead use infrared radiation to directly heat the user.
evolutionhealth.com offers a wide range of infrared saunas to accommodate most any budget, from luxury saunas to affordable saunas. Blue Dunn is including his flexibility program: Flextasy: The Functional Flexibility DVD set with every sauna. He has taught his flexibility system in various health facilities and hospitals in San Diego, California and North Port, Florida.
CLEAN AIR: A recent study showed that long-term exposure to dirty air -- specifically, the tiny specks known as fine-particulate air pollution -- shortens lives and contributes to cardiovascular and lung disease. Particulate matter is inhaled almost like a gas and is thought to hike blood pressure, heart attack risk, and the chance of heart disease-related death. One can effectively improve air quality which will improve health and life expectancy with the use of an iqAir air purifier.
IQAir's HyperHEPA filtration is tested and certified to filter ultra-fine pollution particles down to 0.003 microns in size with a guaranteed minimum efficiency of over 99.5%. This is 100 times smaller than what is achieved with ordinary air filtration technology and 10 times smaller than a virus.
CLEAN WATER: Our water ionizers are far, far more than just a filter.
Initially, the filter inside the ionizer functions effectively using silver activated granulated carbon to purify the incoming water, just like 99% of household filter systems. What separates it from ordinary water purifiers are 3 important additional benefits. These benefits are what makes water clean AND healthy.
Benefit One:
The filter in the Jupiter water ionizer while taking out what is not wanted allows the essential alkalizing minerals to pass through. These essential alkalizing minerals include calcium for the bones and magnesium for the heart.
Benefit Two:
The water in a water ionizer is ionized. Water that comes from dams, pipes and bottles is "dead" and stagnant water. For water to be healthy and easy to be absorbed and utilized by one's body it needs to carry a strong negative charge. This happens in nature when water bounces over rocks or moves in rivers and streams and is recreated by science in a water ionizer.
Benefit Three:
The water in a water ionizer is split into two streams - an acid and an alkaline stream. We use the alkaline water for drinking and cooking. The acid water is a "free" bonus and can be used for sterilization, skin, and plants. Poor quality food, unclean air, stress and lack of rest and gentle exercise all increase the acid levels in our bodies leading to a gradual breakdown in our physical condition.
FUNCTIONAL EXERCISE:
Rebounding using a mini trampoline or rebounder is a unique form of exercise that reduces body fat; firms arms, legs, thighs, abdomen, and hips; strengthens all muscles and bones; provides excellent aerobic effect for your heart; instantly stimulates your lymphatic circulation, rejuvenates every system in the body, and allows one to easily achieve a higher level of health and fitness. Rebounding helps manage body composition and improves muscle-to-fat ratio. Rebounding diminishes body fat, improves muscle tone, improves the efficiency with which the body burns carbohydrate, and lowers pulse rate and blood pressure.
rebounding is fun, easy and efficient. Rebounding for 10 minutes is equivalent to 30 minutes of jogging! Rebounding for 20 minutes is equivalent to 1 hour of jogging!
INVERSION:
Inversion is actually a natural form of traction that uses your body weight in combination with gravity to decompress weight-bearing joints. While the body is rotated and suspended, gravity's force applies traction, resulting in a customized stretch that elongates the spine, increasing the space between the vertebrae. Inversion puts gravity to work by placing one's body in line with the downward force of gravity. Not only can inversion therapy help to temporarily relieve back pain, but it also can be used as a method to relieve other negative effects that gravity has on your body. Inversion can also be used as a proactive approach to help maintain overall back health. Hanging upside down can help to stretch and relax muscles, reduce stress, and provide healthy movement for ligaments.
Inverting for as little as 20-25° for even a few minutes can help relax tense muscles and speed the flow of lymphatic fluids which flush out the body's wastes and carry them to the blood stream. The use of an inversion table or an inversion swing helps achieve the effects of anti-gravity.
EvolutionHealth.com was founded by Blue Dunn, creator of Flextasy! The Functional Flexibility System. The products he has made available to the public are ones he regularly uses and based on 20+years of search, research, and experiment. Blue Dunn considers these products to be the crème de la crème and his collection of favorites, which have changed his life, and the lives of his clients for the positive.
# # #