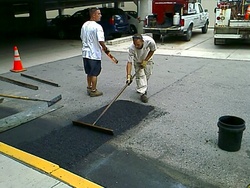 Both companies understand that during hard times people need to band together in order to be successful.
Saint Louis, MO (PRWEB) January 14, 2009
It's no secret that the last couple of years have left many citizens weary because of economic downfall, inflation, unemployment, and fluctuation in oil prices. With a new president being inaugurated, there is a great deal of conversation going around talking about another "New Deal". This phrase is commonly associated with creating new jobs aimed at building transportation systems or upgrading existing ones. The last thing people want to think of is asphalt. However upgrading our crumbling infrastructure means relying on asphalt to get it done. Unfortunately asphalt itself has been victimized by the same types of problems we are all facing today. Asphalt is made from refining crude oil into gasoline. As everyone knows, the price of gasoline hasn't been stable for the last couple of years. Neither have asphalt prices.
Creve Coeur Paving has recognized the need for a cost effective solution to providing permanent repairs to defects in asphalt pavements. The solution was found in Ez-Pavement Repair Inc. Ez Pavement Repair applies low overhead techniques that concentrate on recycling and reducing the amount of asphalt required to achieve proper pavement repairs. Repairs are completed on site with one third the equipment, one third the material, and much less man power. The process usually is much faster than conventional means and more permanent. The equipment utilized provides a revolutionary approach. This means less money spent to make necessary repairs on roads, parking lots, and other asphalt surfaces.
While Ez Pavement Repair is able to offer such a great method to the local patrons, they also realized there were circumstances they would not be able apply this process. Base issues or large resurfacing projects must be taken care of by a pavement professional. Creve Coeur Paving is able to take care of the requirements of Ez Pavement Repairs' customers when they need more than an infrared repair. While both companies have particular interests in how they serve the local industry, they rely on each other's expertise in order to accomplish a common goal.
This partnership offers a much more affordable approach to pavement repair for the Saint Louis area. Hopefully this will relieve the stressful burden of trying to create budgets for 2009 and beyond. "Both companies understand that during hard times people need to band together in order to be successful." They are hoping to work together in order to help patrons accomplish their goals during these hard economic times.
Creve Coeur Paving is a family owned, full service paving company operating in the Saint Louis Metro area since 1973. They are focused on serving the needs of commercial and residential patrons.
Ez Pavement Repair is the first company in St. Louis to offer Infrared asphalt repairs and focuses mainly on the needs of utility companies and property managers. They have been operating since 2008.
Contact:
Creve Coeur Paving
Richard Dinkela II, Operations
314-427-3303
http://www.CcpStl.com
Ez-Pavement Repair
John Furr, Sales and Marketing
1-877-365-US PAVE
http://www.EzPavementRepair.com
###