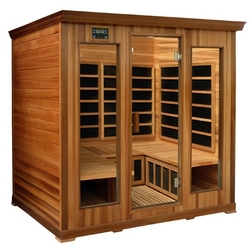 North Port, FL (PRWEB) December 7, 2009
EvolutionHealth.com's new infrared sauna line features commercial grade fiber carbon heaters which have a fast heat up time and are more energy efficient. These new infrared saunas feature large carbon heater panels for more surface area heat.
Benefits of Carbon Fiber Heaters vs Ceramic Heaters :
*Even Heat Distribution: Carbon Fiber heaters are composed of thin carbon plates and have an even heat distribution area, thereby eliminating hot spots that are typically experienced with Ceramic Heaters
*Faster Warm Up Time: Carbon Fiber heaters provide a fast warm up time of 10-15 minutes
*Lower Surface Temperature: The surface temperature of a Carbon Fiber heater is much lower than a Ceramic heater, therefore, they are safer and a person can withstand longer therapy sessions.
*More Heat Coverage: Carbon Fiber heaters provide more heat coverage than ceramic heater saunas.
*Infrared Rays: Carbon Fiber heaters emit rays that are closer to far infrared which is most beneficial for health and healing.
*Deep Tissue Penetration: Carbon Fiber heaters Infrared heat penetrates deeper into the skin tissue than with Ceramic heaters.
*Lower Energy Cost: Carbon heaters are energy-efficient
In addition, EvolutionHealth's new line of saunas have thick wood walls and glass for better insulation. Choose from the Luxury, Deluxe, or Basic series to fit any budget. The luxury infrared sauna line features wider and deeper sauna cabins, wall to wall heating system, deeper benches, color therapy lights, floor heaters, and portable back rests. The deluxe infrared sauna line features color therapy lights, floor heaters, and portable back rests. The basic infrared sauna line come are designed for the budget conscious. EvolutionHealth's infrared sauna is used exclusively at the Warm Minerals Springs resort and spa in North Port, Florida.
Some of the benefits of infrared sauna therapy include:

Burn Calories and Controls Weight(burn up to 600 cal. in a 30 min. session
Increases Blood Circulation and Strengthens the Cardiovascular System
Relieves pain
Muscles relax most readily when tissues are warm, for greater flexibility and range of motion.
Eases joint pain and stiffness
Clears Cellulite
Remove toxins and mineral waste
Improves the immune system
EvolutionHealth.com offers an extensive line of health products, including saunas, inversion therapy equipment, rebounders, air purifiers, and water ionizers. An inversion table will counter the anti-aging effects of gravity by relieving back pain, decompressing joints, and increasing oxygen to the brain. A rebounder or a mini-trampoline will help you achieve functional strength while cleansing your lymphatic system. An IQAir Air purifier will cleanse the air you breathe by reducing environmental pollution, which will positively impact your immune system. A water ionizer will purify and alkalize your water providing with more anti-oxidants.
EvolutionHealth® was founded by Blue Dunn, the only person ever in the Health and Fitness Field to combine the experience of over 16,000 hours Hands-On Structural Release Realignment Therapy (since 1984), teaching and performing tightrope and tightwire walking (since 1984), and teaching Movement Reorientation Classes (Flextasy®) since 1991. This eclectic and relevant background experience has given him a unique and valuable understanding of Body Mechanics, and what it takes to bring Flexibility, Balance, Strength, and Alignment to any body.
Blue Dunn is the creator of The Flextasy Functional Flexibility System®; EvolutionHealth®, a Life Reorientation Total Fitness Program; and HydroYoga, his water-based passive Yoga Release Modality which he practices in Warm Mineral Springs, Fl; and San Diego, CA.
###