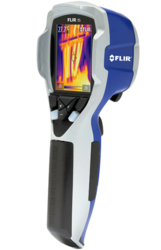 Now you can find the infrared camera that has the exact right mix of features, price point and capabilities for your specific use
Janesville, WI (PRWEB) January 31, 2013
Professional Equipment has added a fourth brand of infrared cameras to the product mix. The expanded product lineup now includes IR cameras from the most popular brands in the industry: FLIR®, Fluke™, Testo® and General Tools®.
The addition makes Professional Equipment a leader in infrared camera distribution. Professional Equipment stocks base models (like the FLIR i3—perfect for those just getting into infrared), deluxe models for serious infrared camera users (including the FLIR T620 kit) and everything in between. What other company brings so many choices? "Now you can find the infrared camera that has the exact right mix of features, price point and capabilities for your specific use," says Lisa Sympson, Professional Equipment Brand Manager.
Infrared thermography is a great way for business owners to offer additional services, grow their business potential and stay ahead of the competition. Thermal imaging cameras are also invaluable tools for predictive maintenance—pinpointing issues quickly helps save costly downtime and prevents further problems down the road.
Professional Equipment's expert technical support department can save the hassle of choosing the right camera for any specific application. With financing options and a 90-day deferred lease program, even small businesses can afford to grow with infrared.
About Professional Equipment
Professional Equipment, founded in 1987, is the leading national distributor of top-quality testing, diagnostic and measuring equipment used by home inspectors, energy auditors, restoration contractors, HVAC contractors, electricians, property managers, general contractors, roofing specialists, insulation installers, architects, commercial building inspectors, insurance adjustors and other construction-related trades.
The PE catalog sports more than 150 pages of full-color photos of testing equipment, safety supplies and building trade support products from the best brands in the industry, including FLIR, Extech, Bacharach, Tif, Fluke, GE, Tramex, Delmhorst, Leica, Streamlight, TPI, Amprobe, UEI, The website, ProfessionalEquipment.com, boasts even more equipment with thousands of items complete with product reviews.
To request a catalog, visit ProfessionalEquipment.com.