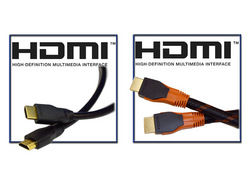 Quality is our main concern and we want to provide the best to our customers. Not only is the connectors and cable is important but the assembly process of the cables also makes a big difference
Brea, CA (PRWEB) May 21, 2008
What is the difference between AWG's HDMI Cables vs. others?
The only way HDMI cables are made to the intended specifications is to manufacture those cables at a Certified HDMI Factory which offers the benefits of using industrial quality materials in the manufacturing process made to HDMI specifications from the certified connectors to the certified cable.
The HDMI Cables made by AWG Corp. uses Certified HDMI Connectors and the Cable itself is also ATC Certified and thus it is certified from the Cable to the Connectors. ''The tolerances for HDMI cables are incredibly tight. Because a digital signal is comprised of 1s and 0s, sent over four channels with 19 pins inside the cable...the manufacturing tolerances for cables are very high...It's also why it is impractical (if not impossible) to splice and crimp an HDMI cable at home (you would need to cut each strand within 1/20,000th of an inch to ensure that it would work)'' says Steve Venuti of HDMI.org.
"Quality is our main concern and we want to provide the best to our customers. Not only is the connectors and cable is important but the assembly process of the cables also makes a big difference", says Young Chan Director of Marketing and Branding at AWG Corp. "The hand soldering process can lead to excessive over or under soldering, thus AWG's assembly process uses state of the art Infrared Machine Soldering of the 19 pin cable as such we eliminate the human error and inconsistency of having to solder by hand one pin at a time. Then our cables go through an elaborate 3 stage testing process, assuring the utmost quality control before it even gets packaged and shipped from the factory."
''We are ready for the demands of consumers, installers and distributors to accommodate future enhancements and requirements.'' says Vince Luu VP of Advanced Wire Group Corp. ''The new v.1.3b1 Category 2 HDMI Cable supports all current and future HDTV, Projectors, A/V Receivers, PS3, Switch Boxes, HD-DVD & Blu-Ray devices and is backwards compatible. We are supplying the demands of High-Def sources with a cable that is more than capable of delivering the quality, performance and bandwidth at prices competitive with existing solutions.'' Currently HDMI v.1.2 allows 8 bits/ pixel to be allocated for color information. In version 1.3, HDMI has provisions to support 10, 12 and 16 bit color/ pixel thus allowing for even better improvement in picture quality and sound.
Advanced Wire Group Corp. Mfg., and volume distributor also offers a wide range of high quality products from Adapters, USB cables, SVGA cables, DVI cables, Mini HDMI etc...as the company's products are all RoHS Compliant. For more information contact Advanced Wire Group Corp., 170 Gemini Ave., Bldg. C-11& C-12 Brea, CA 92821, or call 714/525-8868 FAX: 714/525-8882. Or visit the Web site: http://www.awgcables.com
HDMI is a registered trademark of HDMI Licensing LLC
###