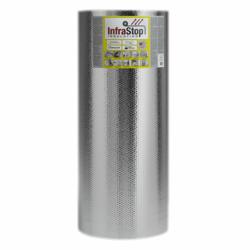 Indianapolis, IN (PRWEB) August 29, 2012
Insulation Stop has supplied reflective insulation nationally for over ten years. Creating the InfraStop™ brand is a natural progression in an effort to providing consumers the best product. All InfraStop™ insulation is manufactured in the United States.
"Reflective insulation consists of several different products. The two most common are radiant barriers and foil insulation. Manufacturers specialize in making one or the other, but not both," stated Nick Semon, an owner of the Insulation Stop. "Most often radiant barriers will come from oversees and the bubble foil insulation may or may not be made in North America. For us, both products are made right here in the United States."
"By calling it InfraStop™ we give tribute to the Infra Insulation company that created the first accordion type insulation for mass consumer use over 75 years ago and really pioneered the use of reflective insulation in commercial and residential buildings. The name is also accurate because reflective insulation blocks infra-red radiant heat."
"Consumers can recognize the InfraStop brand to be synonymous with quality. Because we source only U.S. made products and purchase only from manufacturers verified by the Reflective Insulation Manufacturers Association (RIMA), consumers shopping reflective insulation can rely on the InfraStop™ brand to be a high quality, rigorously tested reflective insulation that will meet their exacting needs.
"The InfraStop™ brand is another commitment to be the leader in reflective insulation. Our customers demand access to recognizable quality, specialty insulation products at great prices."
For more information on radiant barrier and reflective foil insulation, please visit InsulationStop.com
Nick Semon is co-owner of Insulation Stop. They offer individual and bulk orders of U.S. made radiant barrier and reflective bubble foil insulation products for commercial and residential use. The company is committed to offering extensive knowledge on the use and application of its reflective insulation products.