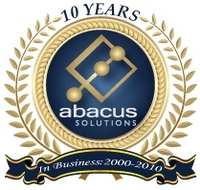 We are so proud of how our company has grown in the past ten years
Marietta, GA (Vocus) July 19, 2010
Abacus Solutions, an IT infrastructure solutions provider, announces that as of July 13, they have officially been in business for ten years.
In 2000, two friends from Georgia Tech, Patrick Hiller and Ken Snuggs decided to form a business partnership. They founded Abacus Solutions primarily as a reseller of refurbished IBM AS400 and RS6000 products. Originally, Abacus was operated out of a one room shop with folding tables, a server or two, and a few telephones.
Since then, Abacus has expanded into the multi-million dollar value added reseller (VAR) that it is today. Now, they focus on IT infrastructure solutions, while supporting their solutions with their large product offerings, services, and certified solution architects. They focus their core competencies around virtualization; enterprise storage; network solutions; business continuity; and email archiving, compliance, and digital records retention.
They have moved into a large facility in Marietta, GA that includes a technical lab, warehouse and data center. Their team now includes customer service representatives, consultants, inside sales support, marketing, senior account executives, logistics, accounting, and certified senior engineers. The engineering team develops and implements customized IT solutions for a wide range of customers and industries. They have also formed a wide range of industry partnerships, allowing them to offer the best technology solutions on the market.
The wholesale side of the business is still going strong, and now includes product lines from the original IBM to Cisco, Sun, HP, Storage and more. These product lines are kept inventoried in their expansive warehouse and are ready to ship individually, or as part of a complete IT solution.
In addition, they have grown their VAR business, and were recently listed in the VAR 500 for the seventh year in a row. "We are so proud of how our company has grown in the past ten years," said Patrick Hiller, CEO of Abacus Solutions. "We have experienced incredible success and growth, and continue to add quality people and partners to expand our team and expertise."
About Abacus Solutions
Abacus Solutions strategically combines products, services and resources to deliver IT infrastructure solutions that solve your business needs. The company architects multi-platform enterprise-level, server, storage and networking solutions by offering technologies from leading manufacturers. Products include servers, software, new and refurbished networking equipment and storage solutions. Whether new or expertly refurbished and warrantied equipment is needed, Abacus works directly with, and across, the purchasing and IT departments at both strategic and deep-dive technical levels to match the right equipment, budgets and processes to a company's direct needs -- delivering more cost effective and efficient technology solutions. For additional information, call 770-738-1101, 1-800-605-5446 or visit abacusllc.com.
###