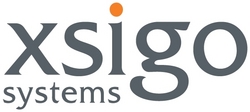 Reston, VA (PRWEB) July 29, 2008
Carahsoft Technology Corp., the trusted government IT solutions provider, today announced that it has expanded its VMware Complementary Solutions team to include Xsigo Systems, the technology leader in I/O virtualization. Xsigo's award-winning I/O solution can lower server-related operating expenses by up to 80%, cut capital costs by 50%, and use 70% less cabling, resulting in 100x faster server management.
"We are extremely excited to add Xsigo to our GSA schedule," said Craig P. Abod, Carahsoft president. "Xsigo's innovative I/O appliance addresses a critical need for the increasing number of government agencies which rely on VMware software to virtualize their IT infrastructures."
Xsigo Systems is the latest vendor to be added to Carahsoft's VMware Complementary Solutions Team, which provides public-sector buyers with one-stop shopping for related technologies that address agencies' virtualization needs across servers, desktops, applications, networks, and storage.
"As VMware's master government aggregator, Carahsoft offers proven expertise in virtualization technologies and in marketing and selling to the public sector marketplace," said Jon Toor, vice president of marketing at Xsigo. "We look forward to working with the Carahsoft team to bring our innovative I/O technology to bear on the challenges facing IT managers interested in deploying VMware software faster, on more servers, and across more applications."
Products and services provided by Carahsoft's VMware Complementary Solutions team are available on Carahsoft's GSA Schedule GS-35F-0131R. For more information, visit http://www.carahsoft.com.
About Xsigo Systems
Xsigo Systems, Inc. is the technology leader in data center I/O virtualization, helping organizations reduce costs and improve business agility. The Xsigo VP780 I/O Director consolidates server connectivity with a solution that provides unprecedented management simplicity and interoperability with open standards. The privately held company is based in San Jose, CA and funded by Kleiner Perkins, Khosla Ventures and Greylock Partners. For more information, visit http://www.xsigo.com.
About Carahsoft
Carahsoft Technology Corp. is the trusted Government IT solutions provider, combining technological expertise with a thorough understanding of the government procurement process to help federal, state and local government agencies select and implement the best solution at the best possible value. As a top-ranked GSA Schedule Contract holder, Carahsoft is the largest government partner and serves as the master government aggregator for many of its best-of-breed vendors. The company's dedicated Solutions Divisions support proactive sales, marketing and delivery of Symantec, Storage Solutions, VMware, Adobe, Open Source, HR, HP Software, Intelligence, and SAP.
Carahsoft is consistently recognized by its partners as a top revenue producer and is listed among the industry's fastest growing firms by VARBusiness, CRN, Inc., Washington Technology, and the Washington Business Journal (#1 Fastest Growing Company in 2007). In 2008, Carahsoft received the Government VAR State and Local Solution Provider of the Year Award and the VAR Business Top Revenue Generator Award.
###