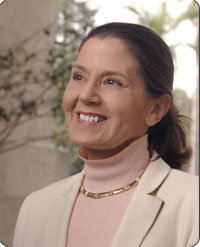 Fundamentally, policy makers face the challenge of how to achieve a decision scale "big enough to surround the problem, but small enough to tailor the solution.
Washington, D.C. (PRWEB) August 30, 2011
The Security and Sustainability Forum has announced the panel for its third webinar on Infrastructure Adaption in its Adaptation and Security series. In addition to Lynne Scarlett, the panel will include:

Lindeen Patton, Chief Climate Product Officer, Zurich Financial Services;
Kevin Shafer, Executive Director of the Milwaukee Metropolitan Sewerage District and President, National Clean Water Association;
Paul Harrison, the Senior Director of the Environmental Defense Fund's Mississippi River Delta Restoration Project.
In the United States and around the globe, climate change presents threats to water, energy, transportation and other infrastructures. These threats are often increased in a context of rapid urban development, population growth, and aging infrastructure. Climate impacts include changes in precipitation patterns, increased frequency of high-intensity storms and sea level rise, and can result in coastal erosion with associated damage to ports, roads, and other coastal infrastructure, flooding, and salinity intrusion into water supplies. The existing infrastructure is often inadequate to handle these changes.
SSF's September 28th webinar will examine these changing conditions, their implications for basic infrastructure, and strategies to understand and address these issues.
Register for the September 28th 2:00 to 3:30 PM EDT Infrastructure Adaptation webinar at http://securityandsustainabilityforum.org/new/events/infrastructure-and-adaptation/
About the Moderator: Lynne Scarlett is a senior Visiting Scholar at Resources for the Future (RFF) in Washington, DC, co-director of RFF's Center for the Management of Ecological Wealth (CMEW) and co-author of "Landscape-scale Conservation," published by the Lincoln Institute (download attachment). She is a former Deputy Secretary and Chief Operating Officer of the Department of the Interior.
The complete SSF Adaptation and National Security Webinar Series lineup is:
Session 1 - Adaptation in a Changing Climate, an introduction (June 21, 2011)
Session 2 - Adaptations to Protect Food and Water (August 4th)
Session 3 - Adaptations to Protect Physical Infrastructure (September 28th)
Session 4 - Adaptations to Protect the Protect the Public Health
Session 5 - Adaptations to Maintain Economic Growth in a Changing Climate.
Check the SSF website to register and for the schedule and panelists for the remaining sessions.
About The Security and Sustainability Forum: SSF's Adaptation and National Security Webinar Series is designed to assist managers, decision makers and professionals from government, industry and academia, and nongovernmental organizations to better understand and promote effective measures to adapt to the physical, environmental, economic and political security threats of a changing climate.
Each 90-minute live session features a panel of experts. To learn more visit:
http://www.securityandsustainabilityforum.org
Learn the benefits of SSF's Promotion Partners' Program in the attached flyer or on our website.
###