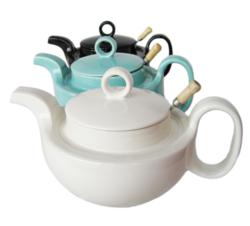 The Mod Teapot's elegant design makes it not only an attractive figure in a home kitchen, but also lends itself well to foodservice use.
Boulder, CO (PRWEB) September 22, 2011
The Tea Spot debuts the latest addition to their award-winning line of Steepware® - the Mod Teapot - at their online tea store today. The Tea Spot's Steepware® products make it easy for today's savvy tea drinkers to prepare a gourmet cup of loose leaf tea. Infusing the loose tea experience with modern technology and design, Steepware® products bring convenience to the quality and integrity of full leaf tea. A contemporary infuser teapot design, the Mod Teapot will be featured in three classic colors - Ivory, Turquoise and Black. It retails for $39.95 and is available at theteaspot.com.
The Tea Spot's tea specialist, Bo Olson, states "The Mod Teapot's elegant design makes it not only an attractive figure in a home kitchen, but also lends itself well to foodservice use. The sturdy handcrafted ceramic material this pot is made from is completely dishwasher-safe, and its large-volume infuser allows for quick and easy cleaning."
This 20 oz ceramic teapot with infuser makes two generous servings of any tea, from tea bags to the fullest loose leaf teas. It has a large volume fine-mesh stainless steel tea infuser, giving ample room for tea leaves to unfurl, and a wooden handle to avoid hot contact. Tea bags will brew equally well in this teapot; the tags of tea bags can drape outside through the notch in the Mod Teapot's rim with the infuser basket removed, and tagless tea bags are made compatible by using the infuser basket while brewing. The ergonomic design of the Mod Teapot features a silicone seal to secure the lid while pouring as well as a dripless spout to prevent drips and spatters. Adding to its understated elegance, inside the teapot is The Tea Spot's signature spiral design element, which represents an unfurling tea leaf. The Mod Teapot is designed by The Tea Spot and manufactured in Thailand of high quality stoneware ceramic.
ABOUT THE TEA SPOT: The Tea Spot is a for-profit philanthropic business producing handcrafted loose leaf teas and Steepware® – the tools that make loose tea easy. The Boulder, Colorado-based woman owned and operated company was founded by Maria Uspenski in 2004. A cancer survivor drawn to the health benefits of leaf tea during her recovery, she set forth to modernize the loose-leaf tea experience. Her message is simple and powerful: tea in its freshest form renders incredible flavor, unmatched health benefits, and is eco-friendly. The Tea Spot is a Certified B Corporation and ensures that its products uphold clean, sustainable and fair manufacturing standards. The company's model of social entrepreneurship incorporates a culture of giving as it grows: ten percent of every sale made is donated in-kind to cancer and community wellness programs.
###