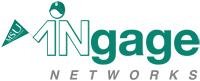 Naples, FL (PRWEB) March 1, 2010
INgage Networks is partnering with Michigan State University to support the University's effort to rebuild Michigan's economy. INgage Networks' enterprise social software provides Michigan with the cost effective means to connect citizens, government and business leaders online for collaboration and problem-solving to restore the State's global competitiveness. INgage Networks chose to partner with MSU because of its global reach, the quality of faculty and students, and the opportunity to work with the College of Communication Arts & Sciences in research and development, due to their expertise in social media research.
Cost Savings
At a time when budgets are cut and stimulus dollars are winding down, the competitive pressure to increase productivity has never been greater. INgage Networks' technology allows the State to do more with less, through smart technology decisions and the power of its most valuable assets: its people.
Greater inclusion, reduced cost of collaboration - INgage Networks provides a cost effective means for reaching the broadest number of stakeholders possible. The company's technology supports online collaboration and public outreach, which is more efficient than traditional outreach that typically includes inefficient surveys, poorly attended town hall meetings, and travel costs necessitated by dispersed team members.
Benefits of Cloud Computing – The company's 'Software as a Service' (SaaS) solution ELAvate is delivered over the Internet and includes the software, hosting and services needed to support multiple initiatives throughout the State. SaaS is quickly becoming a preferred method of delivery for organizations because of the recognized cost savings, including:

Eliminates capital investments needed to build in-house IT systems
Ensures the technology is always current and relevant without become obsolete
Solutions can be deployed on-demand and therefore Michigan entities will pay only for those services needed
Transformational Shift in Communications
The Internet changed the way we conduct business, bringing an abundance of information to our fingertips. Social media holds the power to take this transformation to a new level. Michigan will gain that same speed and richness of information made possible by the Internet, but rather than receiving random or irrelevant data, the feedback will be focused and completely relevant to the issues at hand. The ideas, knowledge and insights gleaned will be from the people who are best positioned to influence success – those with a vested interest in the State's recovery, including employees, business leaders and citizens. The ultimate goal is improved decision-making that yields higher-quality results.
A Repeatable Communications Model
The partnership between INgage Networks and MSU creates a model that can be replicated by other states, as well as federal and international governments, to meet the mandates for greater transparency, citizen inclusion and collaboration. MSU is leading the way to show government and businesses how to effectively listen to the ideas and input of customers, constituents and employees, and take action based on that input to strengthen global competitiveness.
Projects Underway
While multiple projects are in development, several are already underway:

Advance Michigan: A project in progress with MSU Extension will use social media to collect feedback from the citizens of Michigan on how to promote and develop Michigan and its people in the future. It's an example of how research and technology can help our economy, our communities and our future.
Neighborhoods Project: In another project, the College, working with INgage Networks and the MSU Division of Residential and Hospitality Services, will allow MSU students to connect with others in their on-campus neighborhoods. This initiative will facilitate communication among students and give students vital access to information and resources for a richer, more comprehensive MSU experience.
Supporting Quotes
"Gov 2.0 and Enterprise 2.0 are in the early stages of adoption, and organizations need help in understanding how to fully leverage these new communications mediums," said Kim Patrick Kobza, President and CEO of INgage Networks. "With its strong leadership and unique combination of skills in research, teaching and social science, MSU is an ideal partner. We are privileged to support their efforts in advancing Michigan's economy."
"This partnership combines the world class strengths of our faculty and students in enterprise social media and other sciences, and the global reach of Michigan State University, with the industry leading strengths of INgage Networks to define and build a 21-century economy in Michigan and beyond," MSU President Lou Anna K. Simon said.
"Michigan welcomes INgage Networks and the opportunity to improve interaction and encourage collaboration across government lines, between campuses and among businesses in an efficient, convenient and economical way," said Greg Main, president and CEO of the Michigan Economic Development Corporation. "Their arrival is another milestone in our efforts to develop a robust knowledge sector and to integrate the best technologies and practices into the way we operate."
About Michigan State University
Michigan State University has been advancing knowledge and transforming lives through innovative teaching, research and outreach for more than 150 years. MSU is known internationally as a major public university with global reach and extraordinary impact. Its 17 degree-granting colleges attract scholars worldwide who are interested in combining education with practical problem solving.
About INgage Networks
Established in 1999, INgage Networks (formerly Neighborhood America) provides award-winning enterprise social software and services that enables organizations to collaborate online with their networks of employees, customers and partners to gain real-time intelligence. The company's SaaS solution ELAvate, voted the software industry's "Best Social Networking Solution," includes a mobile marketing application, advanced analytics and Social CRM integration to drive actionable results. Visit http://www.ingagenetworks.com.
# # #