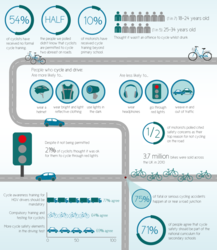 At least 70% of road users in our survey agreed that road safety should be introduced as a compulsory element in the national curriculum, which we think is going to play an important part in how we shape the future of the road.
LONDON (PRWEB UK) 21 August 2012
A survey of 2,000 UK road users commissioned by ingenie and conducted by One Poll found that more than 50% were unaware that cyclists are permitted to cycle two abreast on the road, 23% thought that it was legal to cycle on the pavement and 13% didn't know that cycling whilst drunk is an offence.
Of all age groups questioned in the survey, 18 to 24 year olds knew the least about road cycling regulations with the over 55 year olds the most tolerant age group - 80% saying they were happy to share the road. Both motorists and cyclists had the opportunity to voice their concerns, with 95% of drivers admitting to becoming frustrated when they saw cyclists ignoring The Highway Code, while most cyclists wished motorists would give them a full car width of space when they overtake them.
ingenie has partnered with the charity RoadSafe and Bike Radar, the world's most comprehensive cycle website for the #ShareTheRoadUK campaign, which will use Twitter to generate backing for an open letter to Justine Greening MP, calling for better education and regulations.
The UK wide survey also found:

54% of those who identified themselves as cyclists only said they had no formal cycle training.
Over 40% of respondents said they had witnessed or had been involved in a near miss or crash involving a cyclist and a car.
In general, those who considered themselves as motorists only had a better understanding of road regulations for cyclists.
In the letter to Justine Greening MP the need for better cycle safety education for both motorists and cyclists is highlighted. An infographic can be found on the ingenie website: http://www.ingenie.com/share-the-road-uk. This highlights the survey findings; provides tips for motorists and cyclists on how to share the road effectively; and encourages people to actively support the campaign by pledging their support via Twitter using #SharetheRoadUK.
Richard King, CEO of ingenie, commented - "Our aim is not just to make our own driving community aware of cyclists, but to encourage an attitude of sharing the road while improving levels of tolerance towards each other. At least 70% of road users in our survey agreed that road safety should be introduced as a compulsory element in the national curriculum, which we think is going to play an important part in how we shape the future of the road."
Jeff Jones, Editor of Bike Radar, said "Cycling is on the rise in this country as it's a cheap, easy, fun and environmentally kind way of getting round. We all have a duty to protect more vulnerable road users - not just cyclists but pedestrians and horse riders also fall into this category. That means taking care when we're driving, allowing enough space and time to overtake and always being alert for slower moving traffic. Cyclists can also help themselves by not riding down the inside of HGVs in case they turn, as well as obeying the simplest of traffic laws like stopping at red lights"
Adrian Walsh, Director at RoadSafe, the leading forum for promoting and devising solutions to road safety problems said: "RoadSafe is acknowledged as a leading forum for promoting and devising solutions to road safety problems. This is why we fully support ingenie and Bike Radar in their #ShareTheRoadUK campaign which is calling for better road cycle safety education and training for both motorists and cyclists to encourage future generations of road users to be more tolerant and understanding when they take to the road."
===============
About ingenie:
ingenie is a digital car insurance brand for young drivers aged 17-25 that uses the latest telematics technology to build a picture of a driver's individual style and reward those who drive well with cheaper insurance premiums. Find out more: http://www.ingenie.com/new-driver-car-insurance
Richard King, ingenie founder and CEO, had previous start-up success in the technology/insurance sector as co-founder and executive director of Innovation Group plc, which he helped grow from a start-up to a listing on the London Stock Exchange in 2000 with a peak valuation of £1bn. Chief Underwriter Chris McKee was formerly on the board of Direct Line and has more than 30 years' experience in direct insurance. Steve Broughton, a highly respected insurance industry professional of more than 30 years, is the chairman of ingenie.
In addition to his executive career at RSA Insurance Group, Broughton is also a former chairman of the Motor Insurers' Bureau and is currently the Chairman of Tesco Underwriting Limited.
ingenie was launched at the end of 2011 with investment from footballer turned broadcaster Gary Lineker (who also supports the brand as an ambassador), Williams F1 Team (who assist in promoting the brand and road safety) and leading figures from UK business including Sir Martin Broughton, Chairman of British Airways and Gavin Patterson, Chief Executive of BT Retail (BT Group PLC).
ingenie is committed to creating a community of safer young drivers. Previous campaigns include:
#DontDriveDistracted: a campaign to raise awareness of the dangers of becoming distracted behind the wheel, which raised money for RoadSafe.
#RedMist: a campaign to raise awareness of the risks of road rage, which offered tips on how to remain calm on the road and an online quiz to find out what kind of driver you are.
#MyFirstCar: a campaign inviting individuals to share stories about their first cars on Facebook.
About Bike Radar:
Bike Radar keeps cyclists up to date with all the latest news as well as reviews on the latest bikes and cycling gear. Bike Radar is part of Future plc. Future plc is an international media group and leading digital publisher, listed on the London Stock Exchange (symbol: FUTR). Founded in 1985 with one magazine, today we have operations in the UK, US and Australia creating 200 special-interest publications, apps, websites and events. We hold market-leading positions in Games, Film, Music, Technology, Cycling, Automotive and Crafts. Our biggest-selling products include T3, Total Film, Classic Rock and Official Xbox Magazine. Our websites include gamesradar.com, bikeradar.com, musicradar.com and techradar.com (the UK's number one consumer technology website). Future sells 2.2 million magazines each month; we attract more than 38 million monthly unique visitors to our websites; and we deliver over 100 digital editions and bespoke apps on tablet. Future exports or syndicates publications to 89 countries, making us the UK's number one exporter and licensor of magazine content. Future was named Consumer Digital Publisher of the Year for the second year running at the Association of Online Publishers Awards 2012
About RoadSafe:
RoadSafe is a leading forum for promoting and devising solutions to road safety problems. Its mission is to reduce road deaths and injuries by sharing knowledge and encouraging innovation. The not-for-profit partnership brings together the motor industry and related companies, traffic engineers, the police and road safety professionals.