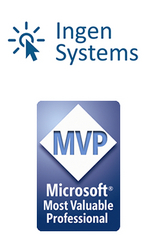 Dallas, TX (PRWEB) October 6, 2009
Ingen Systems a provider of web-based business services and solutions announced today that Jason Kergosien, CEO and lead architect of Ingen Systems has been awarded the 2009 Microsoft Most Valuable Professional Award. His MVP profile can be viewed at https://mvp.support.microsoft.com/profile/Kergosien.
The Microsoft MVP Award recognizes technical leaders from around the world who through their exceptional commitment to helping Microsoft improve their products, voluntarily share their knowledge and passion with the technology community to make the most of their Microsoft products.
These highly respected individuals come from more than 90 countries, serving local online and offline communities, having an impact worldwide. Not only independent experts offering real-world answers to technology users, MVPs offer an objective "voice of the customer" perspective at Microsoft.
MVPs are passionate about improving technology. From beta testing to helping Microsoft identify customer needs, MVPs offer amazing contributions with great dedication. And they answer millions of questions each year from technology users around the world.
Mr. Kergosien has more than 10 years experience in the development and implementation of web strategies and architecture in varied industries, including financial services, public utilities, energy, hospitality, retail, manufacturing and high-tech. His extensive background incorporates leading companies in data management, portals and content management in Microsoft technologies.
Prior to founding Ingen Systems, Jason held positions with White Rock Networks, Covenant Church, TXU Energy, Compucom, Deloitte, Trammell Crow and Tactica Technology Group.
Jason holds a BBA in Management Information Systems from Texas A&M University. He is founder and president of the Dallas DotNetNuke Users Group, and is a key speaker at many Microsoft and other technical conferences across the country. He has also established himself as an industry leader in DotNetNuke as a mentor, evangelist, trainer, and community leader.
About Ingen Systems, Inc.
Founded in 2001 and based in Dallas, Texas, Ingen Systems is a premier provider of web-based business services and solutions, specializing in Microsoft .NET technologies and has become one of the technology leaders in the DotNetNuke community. For the latest information, visit http://www.ingensystems.com.
About Microsoft
Founded in 1975, Microsoft (Nasdaq "MSFT") is the worldwide leader in software, services and solutions that help people and businesses realize their full potential. For more information, visit http://www.microsoft.com.
###