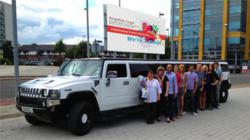 What's so refreshing about Aequitas Legal, is their complete focus on the customers injury claim experience
Manchester, UK (PRWEB UK) 10 September 2012
If a stretched 'Hummer' limousine past you by on the streets of Manchester, you'd be forgiven for not realising it contained the cities finest team of injury solicitors.
Surprisingly, that's exactly how the team at Aequitas Legal chose to celebrate three years of continual growth and client satisfaction levels exceeding 97%.
"Rewarding endeavour and celebrating success has always been an important part of our culture at Aequitas. I thought it was time we let our hair down." - Sucheet Amin - Managing Partner, Aequitas Legal
Since the start of 2012, Aequitas Legal have grown by 30% bringing the total head count to ten full time employees. The most recent additions to team include; Usman Anwar (Paralegal), Katie Asquith (Office Junior) and Carole Wathey (Litigation Executive).
"What drew all three of us to the Manchester injury solicitors, was the way in which the team works together on an accident claim through a set of shared values and goals. It's a real breath of fresh air. Celebrating in style like this is the icing on the cake!" - Carole Wathey - Litigation Executive, Aequitas Legal
Setting off from their head quarters in Salford Quays, the team of 10 enjoyed a glitzy journey into Manchester with champagne, party music and disco lights inside the 5 tonne super stretch limousine.
"What's so refreshing about Aequitas Legal, is their complete focus on the customers injury claim experience. We refer many clients to Aequitas because of their attention to detail and exceptional customer service. It's great to see them celebrating three deserved years of success." - Emma Nawaz - Blackstones Solicitors
According to a number of sources, the injury solicitors from Manchester partied into the early hours of the morning, attending a number of appointments in their SUV limousine. Routine was restored on Monday morning with the team having plenty to recollect about.
"The team have done a fantastic job and I'm just pleased we could celebrate three fantastic years like that. Everyone seems invigorated, recharged and focused on a successful forth quarter." - Sucheet Amin - Managing Partner, Aequitas Legal