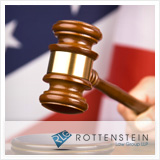 New York, NY (PRWEB) April 09, 2013
The Rottenstein Law Group, a New York City-based law firm dedicated to recovering compensation for victims of injuries from dangerous products, just launched The Injury Lawyer Newswire, a website with indispensible information and news about dangerous drugs and medical devices.
The Injury Lawyer Newswire will feature updates on the progress of trials being conducted and lawsuits being filed over harms allegedly caused by several medical implants, including the DePuy ASR hip replacement system and the Mirena IUD; and several prescription medications, including Actos, Fosamax and Byetta. The Injury Lawyer Newswire will also provide up-to-date information about the actions the FDA takes with regard to these products, and the mass media's coverage of problems related to these drugs and medical devices.
Users interested in the latest news on a particular product need only click on that product's name in the alphabetized list of products on the the Injury Lawyer Newswire's homepage.
To keep the general public informed about the progress and significance of upcoming or pending pharmaceutical liability cases, the Rottenstein Law Group has also appointed Janine Sagar—a veteran legal journalist and former practicing attorney—as its media liaison. Members of the media interested in the Rottenstein Law Group's information about or opinion on any drug- or medical-device-liability or policy issue should contact her at press(at)injurylawyernews(dot)com.
About THE ROTTENSTEIN LAW GROUP
The Rottenstein Law Group is a New York-based law firm that represents clients nationwide in mass tort actions. The firm's founder, Rochelle Rottenstein, has more than two decades of experience as a lawyer, and compassionately represents clients in consumer product injury, mass tort, and class action lawsuits. (Attorney advertising. Prior results do not guarantee a similar outcome.)
Contact:
The Rottenstein Law Group, LLP
Janine Sagar
321 W. 44th Street
#804
New York NY 10036
(212) 933-9500 (office phone)
(212) 933-9980 (facsimile)