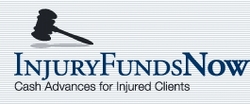 We are excited to offer this new fee structure just in time for the holidays. On some occasions these pre settlement advances can make the difference on whether a home is foreclosed on or prevent other types of financial disasters
Miami, FL (PRWEB) December 10, 2009
Thanks to Injury Funds Now's lawsuit funding services, cash strapped plaintiffs don't have to wait for their lawsuits to recover, they can get a cash advance within 24 hours to help them with their immediate financial pressures including mortgage payments, credit card bills, car loans, medical expenses and any other amounting bills. Injury Funds Now can provide personal injury clients with the staying power they need to wait out a long and dragging lawsuit that typically used to get them to settle for less than their case is worth. Plus, clients only repay the advance if their case wins.
Injury Funds Now is the only lawsuit funding company that offers its clients a choice between a Flat Fee Plan and a Monthly Rate Plan. The Flat Fee Plan has a fixed fee that does not increase over time, and it is capped. The fees included in their Monthly Rate Plan are not compounded, unlike other pre settlement funding companies. In both cases however, clients only pay if their case wins. There are no application fees, no monthly fees, no underwriting costs or hidden fees involved whatsoever.
Lauren Lipcon, program director, said "We are excited to offer this new fee structure just in time for the holidays. On some occasions these pre settlement advances can make the difference on whether a home is foreclosed on or prevent other types of financial disasters that could ruin the holidays for a family. We believe our lawsuit advances and lawsuit funding options have a broad appeal as we look toward 2010."
Injury Funds Now specializes in settlement advances for a wide range of cases from auto accidents to medical malpractice to maritime claims. Injury Funds Now is also a leader in personal injury funding, helping clients obtain the highest recovery. Eligible injuries include back or neck surgery, amputation, burns, paralysis, loss of vision and more.
About Injury Funds Now
Injury Funds Now is a Florida-based lawsuit investment company with a team that's been investing in personal injury lawsuits for almost seven years nationwide except for four states. The lawsuit funding services are confidential and every case is funded by their own capital. Injury Funds Now is affiliated with many reputable law organizations, both local and national.
# # #