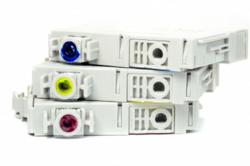 The new discounted pricing is one way that this company is using to help expand its operations online.
Seattle, Washington (PRWEB) January 30, 2013
Manufacturers of printers, copiers and fax machines often discount the prices for sale online and offline. The replacement ink that is required when these machines run out can vary in price from seller to seller. The Simply Ink company is now discounting its ink and toner cartridges for printers by up to 85 percent. This new discount level applies to all sales that are made online when using this link to access the sale coupons.
Ink is manufactured by IBM, Epson, Brother, Kodak, Samsung, IBM and HP in the U.S. The average black and white cartridge that is sold for a printer is able to print only 300 prints before ink is depleted. The coverage ratio is supplied by each manufacturer and the current national standard is only 15 percent of a standard piece of paper. Since most company prints are full pages, the average cartridge of ink can be used up faster.
The SimplyInk.com company is one of few third party retailers that are able to stock a complete line of ink and toner that is compatible with printers manufactured in the past 20 years. The OEM quality units that are available include more volume per toner cartridge and coverage area of inkjet printers compared with some retailers. The new discounted pricing is one way that this company is using to help expand its operations online as one of the largest discount ink suppliers.
Aside from the new discounts, a 100 percent guarantee is now supplied with each shipment. This company backed guarantee applies to new and refilled cartridges that are shipped. As an added bonus for the remainder of the winter season, this company is now offering free shipping for orders of $55 or more online. This is in addition to the up to 85 percent off discounts applied to the current inventory. No resale certificate or business license is required to take advantage of the special pricing that is now offered for purchases online.
About Simply Ink
The Simply Ink company was founded in 1999 and has remained one of the largest retailers for printer accessories in North America. This company stocks hundreds of different toner and injket printer cartridges that are shipped to the U.S. and Canada. An expedited shipped program has helped to provide much faster delivery for all customers using this online resource for office products. The Simply Ink company provides every day sale pricing and regularly supplies coupons that can be used by all customers purchasing the company products.