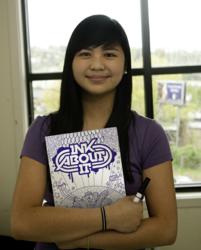 "Ink About It will become a shelter for kids going through tough times, inspiring them to follow their dreams and not let hardship get in the way."

~ Josie Bissett, Author/Actress
(PRWEB) September 30, 2011
Art with Heart, a charitable 501c3 nonprofit organization, has just released its fourth therapeutic book, "Ink About It", aimed at middle-school age students (ages 11+) who are dealing with trauma, stress and illness. The book contains 45 activities, including writing and art prompts, funky coloring pages and posters and that are designed to support youth as they develop their understanding of themselves and their emotions.
According to the National Institute of Mental Health, studies show that at least one in five children and adolescents have a mental health disorder. At least one in 10, or about 6 million people, have a serious emotional disturbance, severe enough to cause some level of impairment. The World Health Organization, states that by 2020, neuropsychiatric disorders in children will swell by 50 percent compared with other health-related problems, making them one of the five leading causes of childhood illness, disability and death. Untreated mental illness in kids can lead to serious problems such as juvenile detention and suicide. Creative expression can help stall or reverse the damaging effects of trauma, hardship and crisis, putting kids on a path to improved mental health.
Written by Steffanie Lorig, Annie McCall, MA, LMHC and Kate Gardner, CCLS, in collaboration with school counselors and psychologists and illustrated by 31 renowned artists, "Ink About It" serves as a springboard for self-discovery, conversations and personal growth.
The list of 31 artists who have contributed to "Ink About It" reads like a Who's Who of illustration, ranging from a Grammy nominee to artists whose work regularly appears on Cartoon Network, Nickelodeon, XBOX, Nike, skateboards, snowboards, magazines and more. Illustrators, who include such names as Doug Fraser, Gary Taxali, Robynn Raye, and Mark T. Smith, invite kids to make their own artistic mark, starting with the cover.
"'Ink About It' opens the door to healing for kids who are struggling and experiencing some serious challenges – from a family torn apart by drug abuse or by divorce, or the loss of someone important to them," says co-author and Art with Heart Founder, Steffanie Lorig. "It gives voice to the emotions that threaten to turn hurting and confused children into angry and broken adults."
For example, "Alice," a 15-year old who had been dealing with neglect from a drug-addicted mom, had always been closed and withdrawn, and reluctant to share anything with her therapist who was trying desperately to help her. But during Art With Heart's pilot program, one of the "Ink About It" activities entitled "Where I Want To Go" captured feelings Alice didn't have words for before. Alice drew a bridge, and under it, she drew sharks and other dangers lurking in the water below. Thanks to "Ink About It", her drawing became the catalyst for conversation, and she became willing, for the first time, to talk about her fears with her clinician. "Ink About It" is uniquely poised to help millions of teens like Alice who struggle with hard-to-talk-about emotions.
"Ink About It" is available at the Art With Heart online store. Bulk discounts are available for larger orders.
ABOUT ART WITH HEART
Art with Heart uses creativity to move kids beyond hardship and uncertainty. Reaching children at critical moments, their therapeutic books and programs based on proven mental health therapies help improve emotional wellness by encouraging creative expression as a path to healthy communication. Learn more about nonprofit organization Art with Heart at http://artwithheart.org.
###