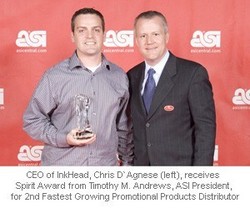 We couldn't be more excited to be recognized in this way by the industry.
Atlanta, GA (PRWEB) March 3, 2008
InkHead Promotional Products, asi/231159, recently placed second in the ASI Spirit Awards category of Top 10 Fastest Growing Distributors in the advertising specialties industry in 2007. The company grew by 522% between 2003 and 2006. InkHead was ranked out of over 20,000 distributors registered with the ASI.
"Congratulations to this year's shining stars," said Timothy M. Andrews, ASI President, in a release from the organization. "Companies honored at the ASI Spirit Awards reflect the entrepreneurial nature, nimble thinking and thoughtful growth strategies that comprise the fabric of our industry and move it forward."
InkHead President and CEO Chris D'Agnese along with COO Jason Miller accepted the award on behalf of the company during the ceremony.
InkHead's growth rate continues to accelerate; 24% in 2006, 50% in 2007, 2008 - look out!
"We'd like to express our deepest gratitude to our customers for helping us achieve this amazing goal," says D'Agnese. "We couldn't be more excited to be recognized in this way by the industry."
InkHead has sought to offer innovative promotional items partnered with individualized customer service since the company's inception. Recent corporate developments include Reseller and Affiliate Programs and expansion into marketing and promotions consultation services.
When people Think Ink! One thing that comes to mind is efficient ease of service. InkHead continues to invest in the usability of the product website to ensure optimal user experience. New capabilities added in 2008 include the product comparison tool which allows customers to quickly and easily compare promotional products or corporate gifts and email to associates for review prior to purchase. Additional user functionality includes the time saving product quick viewer and new account management tool with real-time order status, order history, invoice printing, and more!
Think Ink! For 2008 and beyond!
For more information on Promotional Products, Promotional Items, and Corporate Gifts, visit InkHead online at http://www.inkhead.com
Contact:
Hoa Bui
Marketing Director
Prime Interactive, Inc.
hoa.bui @ PrimeInteractive.com
877-777-4638
###