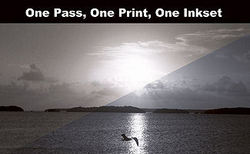 A few years ago, black and white printing was left to the ability of the printer to change the output using the gray scale setting of the printer to print black and white prints, much like a text document
Lake Orion, MI (PRWEB) August 16, 2007
Gallery quality black and white ink jet printing is now a reality. Digital Black and White ink jet printing offers photographers, both new age and old school, unparalleled power in the digital darkroom. The latest Inksupply.com carbon-based inksets, when used with quality archival papers, allow ink jet printers to produce photos that look just like a silver print but with the archival-ability of pure carbon pigments. These newest ink jet inks offer photographers and printing establishments the ability to quickly produce prints in one or more tones with one printer and one inkset.
To help guide users to the correct ink set for their Black & White printing needs Inksupply.com has established a 3 tier ink jet system that breaks the printer ink combinations down into groups based on required: user experience, software, printer model, and additional hardware required. This new system will allow users to pick an ink that will work with their existing printer, or guide new users to a total solution that will fit their printing needs. The Tier system addresses the needs of professional users as well as new comers making black and white ink jet printing inexpensive.
"A few years ago, black and white printing was left to the ability of the printer to change the output using the gray scale setting of the printer to print black and white prints, much like a text document," according to Bob Zeiss, owner of Inksupply. Unfortunately, the result was a print with many color ink jet dots embedded in the photo. Many photo artists also discovered this and sought methods to print with black ink only.
Becuase of these limitations Inksupply.com found a group of inkjet artists that wanted to explore black and white printing using only black ink. Simultaneous to this group's development, there was a larger number of users that sought to print black and white prints using a gray scale ink set. This second group desired the ability for a larger tonal range including Cool Tone, Neutral Tone, Warm and Sepia Tone prints, and everything in between. These groups rank as professional Tier 3 and to fulfill their wishes, Inksupply.com supports a number of various ink sets to achieve results for all types of output. Inksupply.com covers the evolution of these ink sets, from Quadtone Inks, a term they coined many years ago, to the latest and greatest Ultratone ink sets on their web site at inksupply.com.
About Inksupply.com:
Inksupply - based in the US, has been a leading online retailer specializing in the supply of printer consumables to a World market since 1994. The full catalog of printer supplies can be viewed at inksupply.com.
###