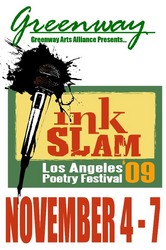 Los Angeles, CA (PRWEB) October 9, 2009
For four days, the finest poets in the nation come together as Greenway Arts Alliance Presents: inkSlam: The Los Angeles Poetry Festival '09
November 4-7, 2009 at Greenway Court Theater
WHAT: inkSlam: The Los Angeles Poetry Festival '09
WHO: The nation's most esteemed slam poets including National Poetry Slam Champion and HBO Def Poet Shihan, 3 time National Slam Champion Bluz who, most recently, performed at President Obama's evening of poetry and music at the White House, and Mahogany Browne, co-founder of the Off Broadway poetry production Jam On It and curator at the celebrated Nuyorican Poets Cafe.
WHERE: Greenway Court Theater: 554 N. Faifax Ave. Los Angeles, CA 90036 with Finals held at 1,500 seat Fairfax Auditorium: 7850 Melrose Ave. Los Angeles, CA 90046
WHEN: November 4-7, 2009
TICKETS: $5-$20 Available through the Greenway Court Theater box office and http://inkSlam.org The box office can be reached by dialing 323.655.7679 ext. 100
***********************************************************************
Greenway Arts Alliance Presents - inkSlam: The Los Angeles Poetry Festival '09 a four day - two venue poetry event taking place November 4-7, 2009. inkSlam features workshops for all walks: educators, youth, beginners and poets and writers looking to hone their craft. Nightly Showcases bring together the talents of poets from groups as diverse as Los Angeles itself, celebrating their culture and heritage. Over these four nights, Greenway Arts Alliance and inkSlam will host an Invitational Slam where the nation's elite Slam Teams will bring their best work and battle it out nightly, whittling sixteen teams down to four who will compete Saturday, November 7 in the 1,500 seat Fairfax Auditorium for $5,000 in cash prizes and the title of inkSlam Champion.
Since 1999 Greenway Arts Alliance has presented Da Poetry Lounge, a weekly standing room only event that is now the largest weekly open mic event in the country. inkSlam: The Los Angeles Poetry Festival '09 grows out of Greenway Arts Alliance's commitment to supporting strength in the community by embracing diversity and developing new voices.
Festival Director Shihan is undoubtedly one of the most dynamic spoken word artists of our generation. This National Poetry Slam Champion (2004) and National Poetry Slam Finalist (2nd in 2001, 5th in 2003 and 3rd in 2005) has been featured on a variety of media outlets including 7 appearances on 6 seasons of HBO's Def Poetry, NBC, Oprah Winfrey's Oxygen Network, Al Gore's Current TV, Nike's Battlegrounds, Reebok, Adidas, NBA, CNN, Artisan Films' Belly DVD, Complex and Billboard Magazine, several national commercial spots, 6 National Tours including the Tony Award Winning Russell Simmons presents Def Poetry Jam International Tour and 2 upcoming Spoken Word documentaries with theatrical releases, SP!T and the sequel to 1997's cult doc Slam Nation, Slam Planet. His abilities to transcend cultural and generational boundaries have made Shihan a much sought after talent. He has been co-hosting Da' Poetry Lounge, the world's largest open mic in Hollywood, CA for the past 11 years and toured as a cast member in the Def Poetry Jam 3.0 International Tour. Collectively, his CD's 'The Poet', 'Music Is The New Cotton' and 'Flowmotion' have sold over 20,000 copies in the U.S. Shihan is the most viewed poet on You Tube with over 2,000,000 hits and he is also the1st and only poet to have a poem named 'download of the week' on iTunes.com.
Festival Producer Danny Fresh is one of Los Angeles' most prolific live theater and event producers. His local producing, directing and writing credits include work at the Ford Amphitheatre, 24th Street, Freud Playhouse, REDCAT, Greenway Court, Boston Court, Bootleg, Sacred Fools, Miles Memorial Playhouse, and the Blank. He is currently the Producing Director for the Greenway Arts Alliance. Prior to his time with Greenway he served as Producing Director for Ensemble Studio Theatre - LA (EST-LA).
Los Angeles producing credits include; Medea, starring Annette Benning, UCLA Live's International Theatre Festival 09/10; West Coast premiere of Valere Novarina's Adramelech's Monolgue; West Coast premiere of The Last Seder; Premiere of Norman's Ark, dir. Peter Schneider, Ford Amphitheatre; The UCLA School of Music's 2004/05 Opera Season; West Coast premiere of Shelia Callahagn's Kate Crackernuts, dir. Jessica Kubzansky. As Associate Producer with the Center for New Theater: Peach Blossom Fan dir. Chen Shi-Zheng, REDCAT and King Lear dir. Travis Preston, the Brewery (and the Frictions Festival in Dijon, France);
Upcoming producing projects include; Off-Broadway - East Coast premiere of Good Bobby, (59E59).
Dan holds an MFA in Producing from California Institute of the Arts (CalArts).
For more information about inkSlam : The Los Angles Poetry Festival '09, please contact Corrie Greathouse by calling 310.463.5521, or e-mail Corrie at media at inkSlam dot org. For more information on Greenway Arts Alliance, please contact Whitney Weston by calling 323-655-7679 X107 or e-mail Whitney at wwgaa at aol dot com
###