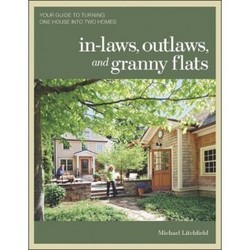 "I was blown away by all the reasons why people create in-law apartments and cottages," said Michael Litchfield, author of the new book "In-laws, Outlaws and Granny Flats: Your Guide to Turning One House into Two Homes."
Newtown, Conn. (PRWEB) March 15, 2011
The Taunton Press is pleased to announce the release of Michael Litchfield's new book "In-laws, Outlaws, and Granny Flats: Your Guide to Turning One House into Two Homes."
In this first-ever comprehensive survey of second housing units, Michael Litchfield offers us a richly illustrated and informative guide to transforming a single-family house into a property with an independent living space. A Coldwell Banker survey of agents says that one third of today's would-be homebuyers are looking for properties with the potential to house multiple generations.
While news reports focus on the economic and real estate crises, a remarkably upbeat and widespread change is taking place in households across America. Homeowners are creating second dwelling units—often called in-law suites, or granny flats, to house relatives, friends, and sometimes even to downsize from the main house without selling or moving. Second units are perfect for Baby Boomers to care for elderly parents with respect and independence. They provide private quarters for adult children still at home, or, rented out, second units generate income to offset the mortgage and provide for retirement.
Cities and municipalities all over the country have recognized this, and many have updated zoning regulations to encourage the construction of secondary living spaces. The AARP and the APA have been at the forefront of the movement to ease zoning regulations. The AARP strongly advocates for states to encourage local ordinances that encourage accessory dwelling units (ADU). In fact, an AARP study indicates that 36 percent of Baby Boomers surveyed would modify their home to add an ADU if they needed assistance as they got older.
With more than 200 color photographs, 50 floor plans and architectural details, "In-laws, Outlaws, and Granny Flats" chronicles nearly 30 in-law units in the U.S. and Canada. It explores what prompted each homeowner to consider a second unit, what layouts and configurations best fit their needs and properties, and how they satisfied the concerns of zoning codes and neighbors. The book's opening chapters guide readers step-by-step through the practical considerations of choosing an in-law type, selecting space- and energy-conserving appliances and products, and navigating the design and permitting process. It shows how to adapt a basement, an attic, or a garage into a suite that can be used for guests, as a rental unit, for a boomerang child, or for an aging parent. It's also a story of friends, family, and almost-family who come together to meet life challenges with courage, compassion and creativity.
The author of 10 remodeling books and hundreds of articles, Litchfield is uniquely qualified to address housing solutions.
Publish date: March 15, 2011
Publisher: The Taunton Press
ISBN: 978-1-60085-251-0
Price: $24.95
Pages: 224
Photos: 225
Cover: Paperback
Trim Size: 8 1/2 x 10 7/8
Web site: http://www.cozydigz.com
About the author: Michael Litchfield has been renovating houses or writing about them for more than 30 years. The author of 10 remodeling books and a founding editor of Fine Homebuilding magazine, Litchfield is perhaps best known as the author of the classic remodeling book "Renovation: A Complete Guide," now in its third edition. He is also a Certified Green Building Professional.
What Litchfield says: "I was blown away by all the reasons why people create in-law apartments and cottages. Here are the top five:

Provide an affordable, dignified, and secure environment for an aging parent.
Provide a safe landing place for an adult child who's changing careers, going through a life change, or who can't yet afford a place of his or her own.
Trade lodging for rent or services. By renting or trading the rent of your in-law suite for services, you can get extra income, or a tenant who's willing to look after your children, maintain your property, help with housework, or provide care for an aged parent.
See the world. Many homeowners rent the big house, live in the accessory unit, and travel after the kids leave home.
Rekindle a romance. One couple I met bought their new house because it had a large in-law suite downstairs—far from their four kids upstairs."
###