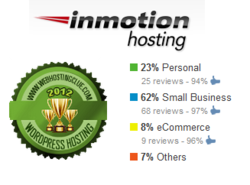 InmotionHosting, 2012 Best WordPress Hosting for Business!
(PRWEB) March 12, 2012
Today, WebHostingClue.com is pleased to announce InmotionHosting as their Best WordPress Hosting for Business in 2012 after reviewing hundreds of web hosts in US.
As said by WHC editor team, this award is granted based on the review of the factors like WordPress compatibility, customer support team's skills on WordPress, WordPress page loading speed, capability to meet the needs of their customers' future business growth and affordability.
And in their InmotionHosting Wordpress Review, WHC lists out the key reasons why InmotionHosting is the best choice for all sizes of businesses to host their WordPress site. Below are some of them:
1. 100% WordPress Compatible Hosting
Besides installing stable version of Linux, Apache and MySQL to meet the basic requirement of WordPress, Inmotionhosting add many features to make their server extremely friendly to WordPress, such as:

mod_rewrite Apache module is installed by default to support url customization for better SEO.
php memory_limit is set to 512MB, which will be very helpful when their customers' WordPress sites have higher need on memory.
PHP is run as suPHP to increase WordPress security.
2. Super Fast WordPress Page Loading Speed
According to the testing executed by WHC, WordPress page loading speed of Inmotion Hosting is the fastest among all shared hosting. Normally, the page could be launched below 0.4s even when 6-7 images are put in the post.
WHC said this great performance might result from Inmotionhosting Max Speed Zone technology.
3. Comprehensive Product Family
Inmotionhosting offer shared web hosting, VPS and Dedicated server. As a business owner, by working with Inmotion hosting, they could progressively upgrade the web server base on the growth of their business without facing all the issues in changing a web host.
4. 100% Customer Satisfaction
According to the feedback WHC have collected from 293 Inmotionhosting customers, about 37% of their customer host WordPress with InmotionHosting, and close to 70% of their sites are business related. The customer satisfaction rate is high to 97%.
5. 1-click WordPress Installation
Even WHC editor feel 1-click WordPress installation feature is just a nice-to-have feature for business customers, they still feel this somehow demonstrate the willingness from InmotionHosting to offer great support on WordPress.
6. InmotionHosting is Affordable
Inmotionhosting offer their Business hosting start from $6.95/month, which is much lower than some other Business hosting service provider. And now, they also promote their product at 15% off through their special discount link, which make them even more affordable.
About WHC (WebHostingClue.com)
WebHostingClue.com is operated by a group of professional web hosting reviewers and editors with a mission to help people find the best web hosting solution for their sites. Their yearly web hosting awards is one of the most authoritative hosting awards in the industry.