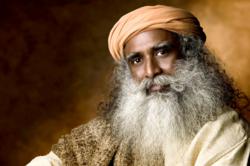 Sadhguru is mystical, insightful, beautiful, funny, wise and grounded. I have taken two of his Isha programs, and strongly encourage you to explore this program for yourself; it's not to be missed. ~Angelica Houston
San Francisco, CA (Vocus/PRWEB) March 30, 2011
For the first time in 25 years, world renowned yogi, Sadhguru Vasudev, will conduct the in-person Inner Engineering Shambhavi Mahamudra Program in a specially constructed 2-day format. The program will take place April 30th and May 1st at Marin Center Exhibit Hall in San Rafael, California. Visit http://www.innerengineering.com/ready for more information and registration.
Derived from the ancient science of yoga, Inner Engineering is a technology for well-being that offers practical wisdom and simple yet powerful tools to experience life with more awareness, energy, and productivity. Inner Engineering's initial online course prepares participants for the intensive two-day in-person experiential program where they will learn Shambhavi Mahamudra, a powerful internal energy process that aligns one's body, mind, emotions and energy to function in complete harmony. Practiced by millions worldwide, the 21-minute practice supports this internal alignment and deepens one's experience of every day life. "As we have physical science to create external well-being, there is a whole inner dimension of science to create inner well-being. I call it Inner Engineering." ~Sadhguru.
Sadhguru Vasudev is a yogi, profound mystic and visionary humanitarian. Named one of India's 50 most influential people, he has addressed prominent global forums such as the World Economic Forum, the United Nations, and TED on issues as diverse as leadership, sustainability, socio-economic development and personal transformation. Through his flagship program, Inner Engineering, Sadhguru has helped millions of people realize their ultimate potential. "Sadhguru is mystical, insightful, beautiful, funny, wise and grounded. I have taken two of his Isha programs, and strongly encourage you to explore this program for yourself; it's not to be missed." ~Angelica Houston
Registration is available now at http://www.innerengineering.com/ready or by calling (866) 424-4742. An additional discount off the registration price is available by entering discount code: 11004001. Space is limited for the 2-day in-person program and is expected to sell-out.

Inner Engineering Online 7-Class Program (pre-requisite for Shambhavi Mahamudra 2-Day In-person Program) - $150 (alone)
Shambhavi Mahamudra 2-Day + Inner Engineering Online 7-Class Program - $299
Sadhguru will also conduct the Inner Engineering Shambhavi Mahamudra Program in Atlanta, Georgia, May 14th and 15th, 2011. Registration and details are available online.
Isha Foundation is a non-religious, not-for-profit, public service organization, which addresses all aspects of human well-being. From its powerful yoga programs for inner transformation to its inspiring projects for society and the environment, Isha activities are designed to create an inclusive culture that is the basis for global harmony and progress. The foundation is operated by over two million volunteers in over 200 city-based centers around the world.
# # #