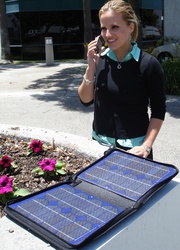 As ECOtality seeks to become a holistic and diversified renewable energy company, it is important that we build a portfolio of synergistic companies and products that complement our core technology, Hydrality(TM). Innergy Power is one of such companies
SCOTTSDALE, Ariz. (PRWEB) October 2, 2007
"As ECOtality seeks to become a holistic and diversified renewable energy company, it is important that we build a portfolio of synergistic companies and products that complement our core technology, Hydrality(TM). Innergy Power is one of such companies," said Jonathan Read, president and CEO of ECOtality. "As part of our growth strategy, Innergy Power will be one of our platforms for further expansion into both energy storage solutions and solar applications. Moving forward, we are identifying new markets and applications for Innergy Power and expect to expand its product lines and manufacturing capabilities to substantially increase revenues in 2008."
The acquisition of Innergy Power provides ECOtality a profitable expansion platform for solar and energy storage solutions, as well as access to a manufacturing facility in Mexico. The facility will also provide additional manufacturing capabilities for fuel cell products for ECOtality's Fuel Cell Store that the Company acquired in June 2007.
"Innergy Power is pleased to join the ECOtality family of companies. ECOtality's financial assets, strong entrepreneurial and management experience will help fuel the growth of Innergy Power's business as we grow our leadership position and expand into other markets," said Darrell Musick, president and CEO of Innergy Power. "By marrying our technical and manufacturing strengths with ECOtality's strong financial backing, we will be able to deliver more portable off-grid solar-powered energy storage and applications for users to harness, store and use clean electricity anywhere."
Founded in 1989, Innergy Power Corporation is based in San Diego, Calif., with a manufacturing facility in Tijuana, Mexico. Innergy Power is the only North American manufacturer of both renewable energy solar modules and rechargeable batteries, and its solar photovoltaic (PV) product line addresses the burgeoning worldwide demand for solar energy products and off-grid power. Innergy Power's fiberglass reinforced panel (FRP) solar modules are designed to meet a broad range of applications for emergency preparedness and recreation, where quality, durability, rugged construction and light weight are important in the outdoor environment. Applications include logistics tracking, asset management systems, off-grid lighting, mobile communications, mobile computing, recreational vehicles, signaling devices and surveillance cameras.
About ECOtality, Inc.
ECOtality, Inc. (OTCBB: ETLY), headquartered in Scottsdale, Ariz., is a technology innovator that leverages global R&D resources to develop and commercialize renewable energy technologies and applications specifically aimed at addressing today's global energy challenges. Through strategic partnerships, ECOtality applies scientific knowledge and creates green energy technologies.
ECOtality is focused on bringing innovative eco-friendly concepts to practical commercialization through the acquisition, partnership and development of early- to mid-stage renewable energy technologies. With strategic partnerships and an aggressive developmental model, the company strives to accelerate the market applicability of clean technologies and related applications to become accepted alternatives to carbon-based fuel technologies. For more information about ECOtality, Inc. please visit http://www.ecotality.com.
Forward-Looking Statements
This release contains forward-looking statements within the meaning of Section 27A of the Securities Act of 1933, as amended, and Section 21E of the Securities Exchange Act of 1934, as amended. All forward-looking statements are inherently uncertain as they are based on current expectations and assumptions concerning future events or future performance of the company. Readers are cautioned not to place undue reliance on these forward-looking statements, which are only predictions and speak only as of the date hereof. In evaluating such statements, prospective investors should review carefully various risks and uncertainties identified in this release and matters set in the company's SEC filings. These risks and uncertainties could cause the Company's actual results to differ materially from those indicated in the forward-looking statements.