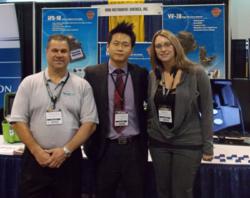 As a distributor for INNO Instrument I am excited to be here for the unveiling of the IFS-15H fusion splicer. INNO is a great partner and their fusion splicers offer our customers the latest technology and value for fiber technicians
Denver, CO (PRWEB) November 28, 2012
Thousands of International OSP professionals attended the EXPO to view the latest developments in products and technologies for FTTx network deployment. Audiences from the ILEC, CLEC, wireless and IOC communities were in attendance for the unveiling of the newest fusion splicer by INNO Instrument, the IFS-15H FTTx core alignment fusion splicer. The IFS-15H received an enthusiastic response, especially from those who work in the FTTx environment.
The new IFS-15H FTTx Fusion Splicer is compatible with both fiber and cable splicing. INNO's newest fusion splicer technology combines the functions of both splicing fiber sizes that are popular in FTTH applications: 250µm fiber, 900µm fiber, flat cable, and fiber jumper and splice-on connectors. Improvements include: automatic adjustment to each different fiber with no need for separate holders, Digital Core Alignment technology vs. clad and fixed groove machines offered by most all competitor fiber to the home splicing machines. Pricing for the IFS-15H full kit which includes INNO Care 24 is approximately $8750.00 in the USA market.
George Kyrias, President of FORC stated "As a distributor for INNO Instrument I am excited to be here for the unveiling of the IFS-15H fusion splicer. INNO is a great partner and their fusion splicers offer our customers the latest technology and value for fiber technicians. The new The IFS-15H provides a competitive advantage in the field and we're excited to get this splicer to our clients who work in the FTTH industry. Based on sales and customer feedback on the IFS-10 the IFS-15H splicer will be flying off the shelves the same way".
About FiberOptic Resale Corporation
FiberOptic Resale Corp (FORC) is a dedicated value added stocking distributor and service center servicing the fiber optic industry. We bring high-quality, cost efficient products to the CATV, Contractor, Enterprise, and Telecommunications market place. These products are centered on the Outside Plant (OSP), Central Office (CO), and head end areas of our customer's environments.
We are proud to be the top U.S. exclusive distributor for the INNO IFS-10 Core Alignment fusion splicer. FORC is an authorized distributor for BlueLight, LIGHTEL and Precision Rated Optics products we also offer refurbished fiber optic USA channel products from Fujikura, Fitel, Sumitomo and more.
With a wide variety of services including in-house technicians we repair, clean & calibrate fusion splicer's OTDRs and cleavers. FORC is the only INNO authorized fusion splicer repair depot on the east coast. Our clients benefit from our "In the field" philosophy with on-site demos and training sessions to help technicians keep up to date on the latest products. To request a product demo please call 877-287-7535 or use our demo request form.
About INNO Instrument
INNO Instrument was founded in Seoul Korea in 2007, with their USA corporate sales and technical staff facility located in Dallas, Texas. Specializing in the latest technology of core alignment splicing INNO Instrument designed the IFS-10, Fiber Master for technicians who require a splicer that is dependable, efficient, and cost effective. The IFS-10 fusion splicer has gone through vigorous testing and compares to top selling, more expensive fusion splicers from Fujikura, Fitel and Sumitomo.
The IFS-10 Core Alignment Splicer is fast becoming one of the top fusion splicer choices in the industry. INNO Instrument is continuing to develop their fusion splicer products to eventually include mini FTTH fusion splicer with splice on connectors.
INNO Instrument is ISO Certified and is sold globally in 75 countries. Customers include: China Telecom, Telefonica, and SK Telecom to name a few. Their commitment, vision and values are to improve high quality, low cost splicers and cleavers increasing their visibility and expertise in global market.