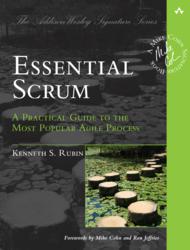 The topic of portfolio management is covered in detail in Chapter 16 of my book.
Niwot, Colorado (PRWEB) August 14, 2012
Kenneth S. Rubin, Managing Principal at Innolution, LLC, will deliver a 90 minute interactive presentation on the critical topic of portfolio management at the Agile 2012 conference in Grapevine, TX. The presentation is one of a select few that will be professionally video recorded and available for on-line viewing to the general public after the conference.
Description: Traditional portfolio management frequently uses principles that are at odds with agile thinking. For example, believing that people should be 100% utilized might cause organizations to start many simultaneous projects leading to high levels of team-member multitasking. Managing a portfolio according to these principles all but guarantees a continuous stream of impediments that interfere with team-level agility and sub-optimizes delivered value. In this session Rubin will discuss strategies for aligning portfolio management with agile development to ensure a better end-to-end flow of value.
When: Tuesday August 14, 2012 1:30 pm - 3:00 pm
Where: Ft. Worth Rooms 5-6 at the Gaylord Texan Hotel and Convention Center, Grapevine, TX
Immediately after his presentation at 3:00 pm, Rubin will be signing copies of his book Essential Scrum: A Practical Guide to the Most Popular Agile Process at the conference bookstore.
For those not attending the conference, the book is available for purchase in both print and Kindle version at Amazon and other fine retailers. You can learn more about the book at: http://www.essentialscrum.com.
About the Speaker/Author
Kenneth S. Rubin is Managing Principal at Innolution, LLC, an agile training and coaching company that helps organizations develop products in an effective and economically sensible way. A Certified Scrum Trainer, Kenny has trained over 18,000 people on agile and Scrum, Smalltalk development, managing object-oriented projects, and transition management. He has coached over 200 companies, ranging from start-ups to Fortune 10.
Kenny was the first Managing Director of the worldwide Scrum Alliance, a nonprofit organization focused on the successful adoption of Scrum. In addition to authoring the book Essential Scrum: A Practical Guide to the Most Popular Agile Process, he is also the coauthor of the 1995 book Succeeding with Objects: Decision Frameworks for Project Management.
You can learn about his background at: http://www.innolution.com and follow him on his blog at the same site. You can also follow him on Twitter using @krubinagile.