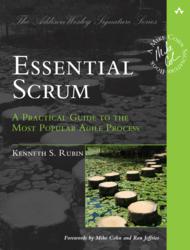 The Single-Source, Comprehensive Guide to Scrum for All Team Members, Managers, and Executives
Niwot, Colorado (PRWEB) September 28, 2012
On August 6, 2012, Kenneth S. Rubin, managing principal at Innolution, LLC published his new book Essential Scrum: A Practical Guide to the Most Popular Agile Process. Immediately the book advanced to the No .1 ranking on Amazon's Best Sellers list in two categories. Eight weeks later the book still retains its No. 1 ranking on Amazon's Best Sellers list in the category of Agile Project Management. In addition, over its first eight weeks the book has been reviewed 20 times with each reviewer giving the book a perfect five-star rating (the highest rating on Amazon).
"I am thrilled that the Essential Scrum book has received such an enthusiastic reception. During the three years it took to write, one of my hopes is that people would find the book to be a valuable aid in helping them achieve their desired business results. Clearly people are finding it useful," explained Rubin.
Here is a sampling of what the reviewers are saying:
"In a word - superb. It is the most comprehensive and current introduction to Scrum," Ilan Goldstein.
"Incredibly detailed, its a great reference book to not put on your shelf, keep it on your desk, pass it around your team and management," Cuan Mulligan.
"If you could own only one book Scrum, this would be the one," Brad Swanson
"I had the book with me when I ran my last Certified Scrum Master training and it was great to be able to point to as a resource for the students. It is one of the books I am going to be recommending to my students going forward," Dave Prior
"...this is the first book that I've seen that addresses everything from elementary 'this is scrum...' discussions all the way to covering topics such as technical debt, portfolio planning, and even concludes with a discussion of the path forward," Brian Irwin
"A great reference for those that have taken his (Kenny's) course or a great read for anyone (new or experienced) in Agile methodologies," James Card
"I have refered people to Schwaber's Agile Project Management with Scrum book for years. This book is slowly but surely replacing that recommendation," Mitch Lacey
"One of the best books I have read about Agile, very comprehensive, well written, covers a wide range of essential topics, created from the practitioner side instead of pure academia." Adib Yassine
"Kenny Rubin has done an outstanding job balancing Scrum theory with real world practice in a concise, easy to read and visual perspective," Michael Klimkosky
"If you are looking for an in-depth discussion of the core Scrum principles, values, and practices - Essential Scrum is a must read," Howard Sublett.
"Hands down this is "THE ESSENTIAL SCRUM BOOK"! Whether you are trying to embrace the Scrum Basics or looking to dive more into the extended Scrum Framework, this book has it all," V. Lee Henson.
The book is available for purchase in both print and Kindle version at Amazon and other fine retailers. You can learn more about the book at: http://www.essentialscrum.com.
About the Author
Kenneth S. Rubin is managing principal at Innolution, LLC, an agile training and coaching company that helps organizations develop products in an effective and economically sensible way. A Certified Scrum Trainer, Kenny has trained over 18,000 people on agile and Scrum, Smalltalk development, managing object-oriented projects, and transition management. He has coached over 200 companies, ranging from start-ups to Fortune 10.
Kenny was the first managing director of the worldwide Scrum Alliance, a nonprofit organization focused on the successful adoption of Scrum. In addition to authoring the book Essential Scrum: A Practical Guide to the Most Popular Agile Process, he is also the coauthor of the 1995 book Succeeding with Objects: Decision Frameworks for Project Management.
You can learn about his background at: http://www.innolution.com and follow him on his blog at the same site. You can also follow him on Twitter using @krubinagile.